Using AntiSolvent For Crystallization
How Solvent Addition Can Control Crystal Size and Count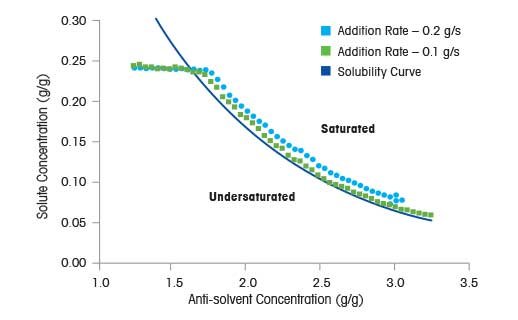 Controlling Addition Rates
With In Situ Supersaturation Profiling
Supersaturation is generated by reducing the solubility of the product in solution, typically by cooling or adding an antisolvent. The rate at which a solution is cooled or antisolvent is added directly influences the level of supersaturation.

In this example, undersaturated solutions of benzoic acid in ethanol-water mixtures are prepared and water is added at a fixed rate of 0.1 g/s and 0.2 g/s respectively, at a fixed temperature of 25 °C. The liquid concentration is measured in real time with in situ FTIR spectroscopy. In the figure to the right, the solubility curve for benzoic acid in ethanol-water mixtures with desupersaturation profiles for each experiment are displayed. The desupersaturation profile shows that the solution begins in the undersaturated region. As water is added, the process moves past the solubility curve into the supersaturated region. The liquid concentration decreases upon crystal nucleation and stays close to the solubility curve. At the end of the antisolvent addition period, the liquid concentration drops to the solubility curve. When antisolvent is added at the faster rate, the supersaturation level is higher throughout the process - due to a buildup that cannot be relieved fast enough through crystal growth and nucleation.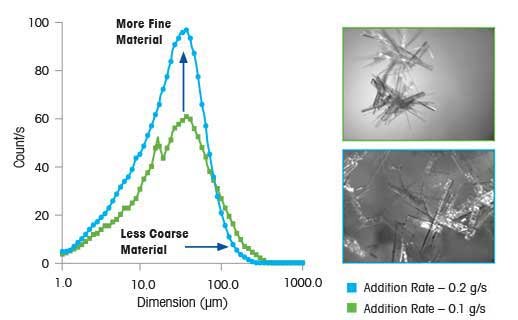 Optimize Process Parameters
To Control Supersaturation and Size
In this experiment, changing process parameters and supersaturation influence both crystal size and shape. Images captured with PVM technology (ParticleView) at the end of each experiment illustrate this point (shown on the right). The slow addition rate yields large, well-formed elongated plates, while the fast addition rate yields fine needles that readily agglomerate. This result shows that by changing supersaturation in a crystallization system, it is possible to modify crystal size, shape, and the degree of agglomeration. This also demonstrates the importance of understanding and controlling the prevailing level of supersaturation.

This simple example illustrates a critical principle:
To make large crystals, generate supersaturation slowly
To make small crystals, generate supersaturation quickly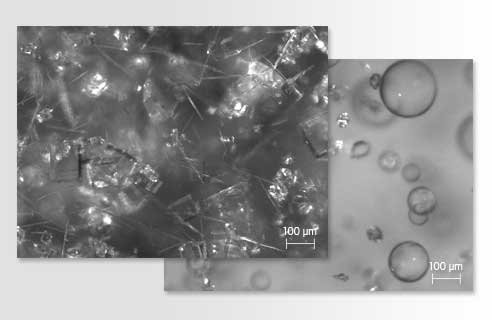 Challenges with Supersaturation
Purity and Scale-up
Controlling antisolvent addition rates to control crystal size is well understood and established in sound scientific principles. However, effective and evidence-based crystallization process development and improvement is more nuanced. For example, generating supersaturation at a fast rate can lead to the generation of unwanted impurities in the form of transient oil phases (a), or unwanted polymorphic forms (b). Similarly, in an effort to generate large crystals, cycle time cannot always be sacrificed, meaning extremely slow cooling or antisolvent addition rates are not possible.

Optimizing Crystallization with Supersaturation Control
A method is presented which facilitates the calibration free use of in situ ATR-FTIR spectra for the production and control of qualitative supersaturation trajectories.
Technologies to Monitor, Optimize, and Control
Crystallization unit operations offer the unique opportunity to target and control and optimized crystal size and shape distribution to:
Reduce Filtration and Drying Times
Avoid Storage, Transport and Shelf Life Issues
Ensure a Consistent and Repeatable Process at Lower Costs
Aplikace
Applications For Antisolvent Addition on Supersaturation
Publikace ke stažení
Publications For The Antisolvent Addition on Supersaturation
Citations

Crystallization and precipitation citation list and publications
Podobné produkty
Technology For Using Antisolvent For Crystallization
In-situ FTIR spectrometers enable scientists to gain insight into their reactions and processes in a wide range of applications. Optimize reaction variables with inline FTIR instru...
Understand, optimize, and control particles and droplets in real time with in-situ particle size analyzers.
Increase productivity in your lab with chemical synthesis reactors featuring built-in automation tools.