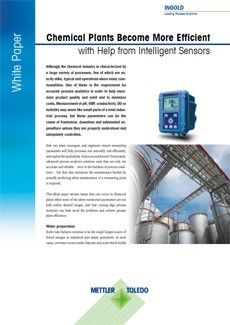 White Paper: Chemical Plants Become More Efficient
Although the chemical industry is characterized by a large variety of processes, few of which are exactly alike, typical unit operations share many commonalities. One of these is the requirement for accurate process analytics in order to help maximize product quality and yield and to minimize costs. Measurement of pH, ORP, conductivity, DO or turbidity may seem like small parts of a total industrial process, but these parameters can be the cause of frustration, downtime and substantial expenditure unless they are properly understood and adequately controlled.

How can plant managers and engineers ensure measuring parameters will help processes run smoothly and efficiently, and exploit the availability of process machinery? Fortunately, advanced process analytics solutions exist that not only are accurate and reliable - even in the harshest of process conditions - but that also minimize the maintenance burden by actually predicting when maintenance of a measuring point is required.

This white paper reviews issues that can occur in chemical plants when some of the above mentioned parameters are not held within desired ranges, and how cutting-edge process analytics can help avoid the problems and achieve greater plant efficiency.