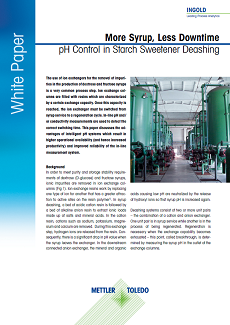 White Paper: More Syrup, Less Downtime
The use of ion exchangers for the removal of impurities in the production of dextrose and fructose syrups is a very common process step explained in this white paper. Ion exchange columns are filled with resins which are characterized by a certain exchange capacity.
Once this capacity is reached, the ion exchanger must be switched from syrup service to a regeneration cycle. In-line pH and / or conductivity measurements are used to detect the correct switching time. 
This white paper discusses the advantages of intelligent pH systems which result in higher operational availability (and hence increased productivity) and improved reliability of the in-line measurement system. The white paper discusses the pH profiles during syrus service and regeneration, the importance of in-line pH measurements, pH measurement from METTLER TOLEDO with Intelligent Sensor Management (ISM).
 
The InPro 3250i pH electrode is METTLER TOLEDO's answer to demanding ion exchanger applications in the starch sweetener industry. It has been designed for use in harsh chemical process conditions where extremes in pH, pressure and temperature are present. High alkali resistant membrane glass safeguards precise measurement regardless of the pH level. Pre-pressurized liquid electrolyte minimizes the effects of diaphragm clogging and ensures long service life. Additionally, the electrode features Intelligent Sensor Management, which helps meet the above mentioned requirements. Intelligent Sensor Management (ISM) is METTLER TOLEDO's platform based on sensors with embedded digital technology and sets a new standard in pH management. A microprocessor is integrated within the sensor which is powered by and read through the connected transmitter. Critical electrode information such as sensor identity,
calibration data, time in operation, and process environment exposure are all recorded by the microprocessor. The data is utilized to continuously monitor the condition of the sensor and recommend appropriate actions based on actual sensor exposure to process conditions.