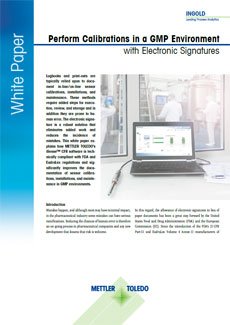 Perform Calibrations in a GMP Environment with Electronic Signatures
Mistakes happen, and in the pharmaceutical industry some mistakes can have serious ramifications. Therefore, reducing the chances of human error is an on-going process in drug companies and any new development that lessens that risk is welcome.
The allowance of electronic signatures by the United States Food and Drug Administration (FDA) and the European Commission (EC) has been a great step forward. 
Since the introduction of the FDA's 21 CFR Part 11 and EudraLex Volume 4 Annex 11, manufacturers of pharmaceutical production equipment have developed instruments and tools that are technically compliant with the two sets of regulations.
METTLER TOLEDO, as a supplier of leading-edge solutions for process analytics, is no exception. In recognition of the issues related to manually recording in-line sensor calibration and maintenance records, we developed ISM Core™ CFR, a pharmaceutical industry-specific version of ISM Core software for our Intelligent Sensor Management (ISM™) portfolio of instruments.
ISM is a digital technology platform that predicts sensor maintenance, increases process reliability and simplifies traceability. The key to ISM is the microprocessor that is installed in all ISM probes. It is this that allows all the significant features ISM offers, such as sensor calibration away from the process and rapid error-free measurement point start up.
ISM Core is a support and maintenance tool for ISM sensors that runs on PCs and laptops. With its intuitive interface and comprehensive menu, iSense provides a fully controllable method of managing sensors and maximizing their use from first installation to disposal.
This white paper explains how ISM Core supports electronic records and signatures to enable compliance with 21 CFR Part 11 and GMP Annex 11.
The white paper covers:
Greater convenience and reliability
eDocumentation as a convenient audit trail
Regulations
Predictive diagnostics
Easy calibration, wherever it is convenient