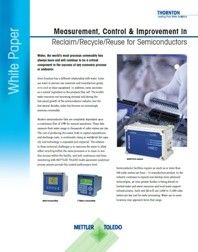 White Paper: Reclaim/Recycle/Reuse for Semiconductors
New requirements to increase the volume of water reclaimed and to reduce contamination levels in waste increases the importance of constant monito­ring and measurement.
The microelectronics facilities of today are upgrading to the latest in analytical control technology to increase the volume of water recovered, to limit discharge and to reduce processing costs. Learn how:
CMP, lithography, wet etch, stripping and wafer cleaning contribute to wastewater stream
Disparities in pH, dissolved oxygen, conductivity, total organic carbon and metallic contamination present water challenges
Implementing strategies for water reclaim can help develop a recycling strategy leading up to 85% reclaim
Read our white paper to find out how water control can help you meet these challenges.