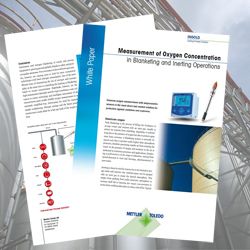 Measurement of Oxygen Concentration
Gaseous oxygen measurement with amperometric sensors is the most direct and easiest solution for protection against oxidation and explosion.

Unwelcome oxygen
Tank blanketing is the process of filling the headspace in storage vessels and reactors with an inert gas, usually to protect its contents from exploding, degrading or polymerizing due to the presence of oxygen but also to protect equipment from corrosion. A blanketing system is normally designed such that it operates under higher than atmospheric pressures, therefore preventing outside air from entering the vessel. As the presence of oxygen and moisture in the air is undesired in numerous processes and applications, blanketing is performed in a wide range of industries, varying from (petro)chemical to food and beverage, pharmaceutical to pure water.