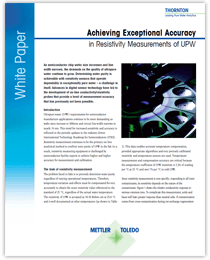 White Paper: Achieving Exceptional Accuracy
As semiconductor chip wafer size increases and line width narrows, the demands on the quality of ultrapure water continue to grow. Determining water purity is achievable with resistivity sensors that operate dependably in exceptionally pure water – a challenge in itself.
Find out how the resistivity measurement accuracy can be increased in a free white paper.