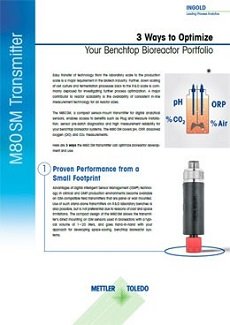 Optimizing a Bioreactor Portfolio White Paper
This white paper examines the issues that many bioreactor manufacturers face when optimizing a bioreactor portfolio to meet the challenging scale-up requirements of their pharmaceutical clients. Specifically, there are often challenges associated with transferring technology from the laboratory scale to the production scale, as well as the reverse – downscaling cell culture and fermentation processes back to the R&D scale. A major factor impacting bioreactor system scalability is the availability of consistent in-line measurement technology for all reactor sizes.
 

In this paper, learn about the M80 SM, a compact sensor-mount transmitter offered by METTLER TOLEDO, and how it provides multiple benefits that address the aforementioned scalability challenges. The M80 SM covers pH, ORP, dissolved oxygen (DO) and CO2 measurements. Among other advantages, this transmitter enables access to Plug and Measure installation, sensor pre-batch diagnostics and high measurement reliability for benchtop bioreactor systems.
The compact design of the M80 SM transmitter allows for direct mounting on Intelligent Management System (ISM) sensors used in bioreactors with a typical volume of 1-20 liters. Benefits of digital ISM technology in clinical and GMP production environments only become available on ISM-compatible field transmitters that are panel or wall mounted. The M80 SM transmitter's design directly addresses this issue, supporting bioreactor manufacturers in optimizing a bioreactor portfolio and enabling space-efficient benchtop systems.

The M80 SM offers centralized operability on one controller unit – with access to sensor identification data, sensor health status, and parameter specific calibration routines – rather than having to utilize several separate transmitters. Batch and sensor-related data, as well as calibration records, can be stored in the biocontroller software for enhanced traceability and documentation.

The simple integration of the M80 SM transmitter into a Modbus RTU environment enables convenient addressing and control of various measurement points and parameter. The M80 stores installation point-specific configuration data, eliminating the need for your customers to configure sensors when one is replaced.

Read more about the M80 SM and ISM in the white paper and by visiting the below:

M80 Sensor Mount Transmitter - A compact, single channel, multi-parameter transmitter designed especially for benchtop biocontroller manufacturers who want to take advantage of Intelligent Sensor Management (ISM) features on SCADA systems.
Intelligent Sensor Management (ISM) – Digital sensor technology for the process industry that ensures predictable maintenance, simple sensor handling, and efficient production.