Övermättnad och kristallisationsutveckling
Drivkraften för kristallkärnbildning och tillväxt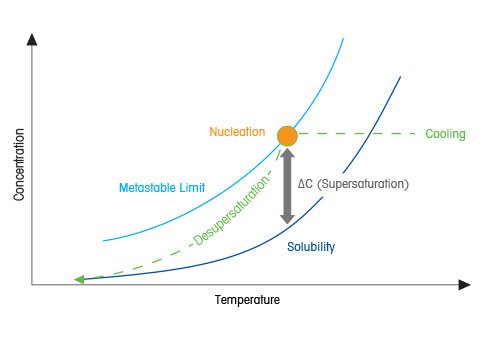 Definiera övermättnad
Drivkraften
Forskare får kontroll över kristallisationsprocesserna genom att omsorgsfullt justera övermättnadsnivån under processen. När en mättad lösning kyls ner, övergår systemet till ett metastabilt område där lösningen blir övermättad, eller med andra ord är mer löst ämne i lösningen än vad löslighetskurvan förutsäger. När kylningen fortsätter, kommer en viss temperatur att nås där kristallkärnbildningen inträffar, den metastabila gränsen.
Så snart som den metastabila gränsen har nåtts och kristallisationen inleds, förbrukas övermättnaden och så småningom kommer vätskefaskoncentrationen att nå jämvikt i löslighetskurvan.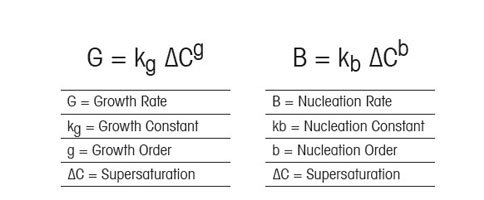 Varför är övermättnad viktigt?
Eftersom övermättnad är drivkraften för kristallkärnbildning och tillväxt och är vad som i slutändan styr den slutgiltiga kristallstorleksfördelning, är det viktigt att förstå konceptet övermättnad.

Kärnbildning är födseln av en ny kristallkärna – antingen spontant från lösning (primär kärnbildning) eller i närvaro av existerande kristaller (sekundär kärnbildning). Kristalltillväxten är ökningen i storlek (eller mera korrekt "karakteristisk längd") för kristallerna när löst ämne bildas från lösning. Relationen mellan övermättnad, kärnbildning och tillväxt definieras av en välkänd uppsättning (något förenklat) ekvationer som först förklarades av Nyvlt (Journal of Crystal Growth, Volym 3–4, 1968, sidorna 377–383)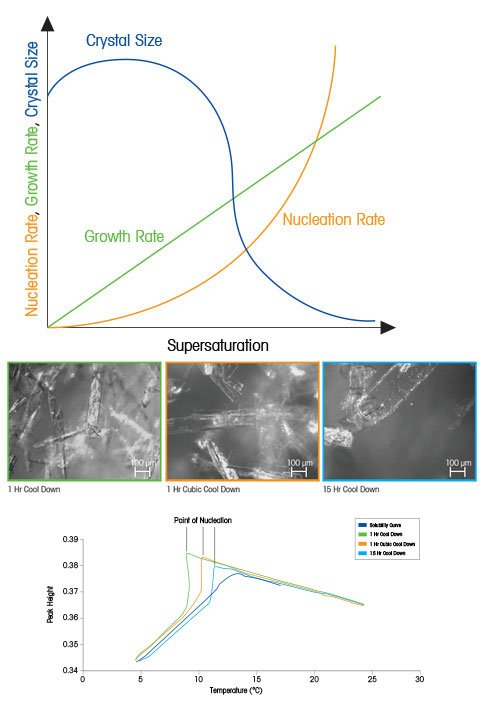 Kristallkärnbildning och tillväxt
För organiska kristallisationssystem, är värdet för tillväxtordningen (g) vanligen mellan 1 och 2 och värdet för kärnbildningsordningen (b) är vanligen mellan 5 och 10. När man ställer upp dessa ekvationer för en teoretisk organisk kristallisationsprocess, blir betydelsen av övermättnad tydlig. Vid låg övermättnad, kan kristaller växa snabbare än de kan bilda kärnor, vilket leder till en större kristallstorleksfördelning. Vid högre övermättnad, dominerar dock kristallkärnbildningen kristalltillväxten, vilket i slutändan leder till mindre kristaller. I figuren till höger, där övermättnad presenteras i relation till kärnbildning, tillväxt och kristallstorlek, illustreras det tydligt hur kontroll av övermättnaden är av fundamental betydelse när det gäller att skapa kristaller med önskad storlek och fördelning.
Moderna tekniker som ReactIR, som här beskrivs av Barett, med flera (Chemical Engineering Research and Design, volym 88, nummer 8, augusti 2010, sidorna 1108–1119) gör det möjligt att utveckla löslighetsspår snabbt och enkelt och den rådande övermättnadsnivån som ska övervakas kontinuerligt under ett kristallisationsexperiment. Snabbare nedkylningshastigheter leder till kärnbildning vid lägre temperaturer och den högsta nivån av övermättnad under processen. En väldigt långsam nedkylning leder till en högre kärnbildningstemperatur och låg övermättnad under processen. En kubisk nedkylning på en timme (långsam i början och snabbare mot slutet) har genomgående en medelhög nivå av övermättnad. Påverkan av varierande övermättnad på kristallstorlek och formfördelning kan observeras tydligt genom att jämföra ParticleView (ett sondbaserat realtidsmikroskop)-bilder för varje experiment. Hög övermättnad leder till de minsta kristallerna – eftersom kärnbildning kommer att gynnas framför tillväxt.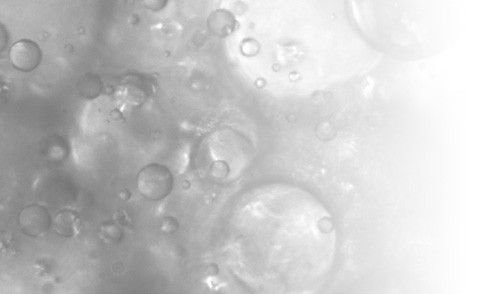 Fallstudier om övermättnad och kontroll
Genom användning av experimentdata har mycket åstadkommits när det gäller övermättnadsövervakning och beräkning av kristallisationskinetik. Tillvägagångssättet har utvidgats till att möjliggöra modellbaserad kontroll av kristallisationsprocessen.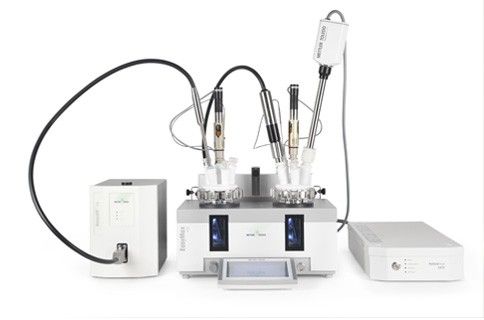 Teknologier för övervakning, optimering, kontroll
Användning av kristallisationsenheter erbjuder en unik möjlighet att rikta in sig på och kontrollera en optimerad kristallstorlek och formfördelning. Detta kan minska filtrerings- och torktiderna dramatiskt, undvika problem med förvaring, transport och hållbarhet och säkerställa en konsekvent och repeterbar process till lägre kostnad.

Hur man övervakar och kontrollerar övermättnad
Denna affisch beskriver användningen av en kalibreringsfri metod där temperaturen under nedkylningskristallisation kontrolleras automatiskt i ett vatten-/IPA-lösningsmedel för att upprätthålla en konstant övermättnadsnivå.

Optimera kristallisation med övermättnadskontroll
En metod presenteras som möjliggör kalibreringsfri användning av in situ ATR-FTIR-spektra för produktion och kontroll av kvalitativa övermättnadsbanor.

Vägledning till effektiv processutveckling
Denna white paper-serie täcker grundläggande och avancerade strategier för optimering av kristallstorlek och formfördelning.
Applikationer
Applications For The Driving Force For Crystal Nucleation and Growth
Trycksaker
Publications For The Driving Force For Crystal Nucleation and Growth
Relaterade produkter
Technology For The Driving Force For Crystal Nucleation and Growth
In-situ FTIR spectrometers enable scientists to gain insight into their reactions and processes in a wide range of applications. Optimize reaction variables with inline FTIR instru...
Understand, optimize, and control particles and droplets in real time with in-situ particle size analyzers.
Increase productivity in your lab with chemical synthesis reactors featuring built-in automation tools.