Pipette Asset Management EasyDirect™
Pipette Management Simplified
Hvordan kan vi hjelpe deg?
Save Time and Simplify Pipette Management
Manage an unlimited number of pipettes
Track location, use, age, service status, performance and more
Optimize calibration scheduling
Simplify management: automatic service reminders and automatic data updates – including new certificates – following service.
Be audit ready, all the time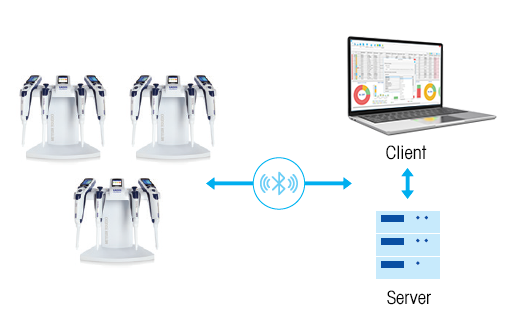 Manage Multiple Labs
Deploy EasyDirect as a server setup to link multiple SmartStands in different labs with a central database. Monitor pipette usage remotely and, when pipettes return from service, SmartStand automatically updates the EasyDirect database with new service dates.

Optimize Your Service Program
Near- and long-term views of which pipettes are coming due for service or calibration help you better align service with your lab's workload and deadlines. With EasyDirect pipette asset management software, you can assign multiple service plans (e.g., calibration vs. preventive maintenance) to each pipette for greater control and flexibility.


Reduce Preparation Time
In addition to showing which pipettes are due for service or calibration, EasyDirect will prepare and print service forms (with pipette-specific requests). Accurate, complete forms are ready in a fraction of the time. Plus, EasyDirect keeps track of which pipettes are out for service.


Implement Quick Checks
Labs with RFID equipped METTLER TOLEDO XPE or XSE balances can create a completely documented and controlled process, from method setup to method execution on the balance and getting a calculated pass/fail result from a printer. The XPE and XPS balances will also update the next quickcheck date on your pipette.

Take Control of Your Pipette Inventory
As pipettes are moved around the lab, they are often lost or left in drawers to be forgotten. By tracking how often a pipette is used (as measured by how often and recently it was placed on a SmartStand), EasyDirect pipette asset management software helps you quickly determine which pipettes may be lost, misplaced or have issues that should be addressed.

Produkter og detaljer
Service
Ekspertservice – skreddersydd til dine pipetteringsbehov
METTLER TOLEDO støtter og utfører vedlikehold på pipettene dine gjennom hele levetiden, fra god pipetteteknikk til forebyggende vedlikehold og kalibrering til reparasjon av utstyr.

Bestill service og kalibrering til din pipette