Software iControl Single Instrument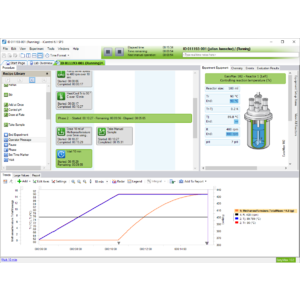 Specifikationer - Software iControl Single Instrument
| | |
| --- | --- |
| Produkter | iControl™ programvara |
| Stöds | RC1mx reaktionskalorimeter med höga prestanda; EasyMax och OptiMax arbetsstationer för syntes och RX-10 styrenhet |
| AddOn-moduler | Multiinstrumentskontroll, HFCal (Varmströmskalorimetri) |
| Materialnummer | 30721094, 30721119 |

Available software packages
iControl EasyMaxTM V4.2 for instrument control
iControl EasyMaxTM V4.2 Office version
System Requirements

Characteristics
Minimum (One iC/iControl Application)
Minimum (Multiple iC/iControl Applications)
Operating System
Windows® XP™ SP2
Windows® Vista or
Windows® 7 (64-bit version is only supported on office PC)

Windows® XP SP2
Windows® Vista (32-bit)

CPU
Intel Core 2 Duo 2,2 GHz T7500 (Notebook) or Intel Core 2 Duo 2.4 GHz E4600 (Desktop)
Intel Core 2 Duo 2.5 GHz T9300 (Notebook) or Intel Core 2 Duo 2.8 GHz E8300 (Desktop)
Memory
2 GB
3 GB
Hard Drive
SATA 5400 rpm
SATA 7200 rpm
Graphics
SXGA 1280x1024 with 3D hardware acceleration
SXGA 1280x1024 with 3D hardware acceleration
Additional Software
Internet Explorer 7.0, Microsoft Office 2003
Internet Explorer 7.0, Microsoft Office 2003
Description
iControl EasyMaxTM is an easy-to-use and extremely powerful software interface for EasyMaxTM.  Multiple reactor support, overview screens for all reactors, detailed information for each individual reactor, and simple interactions with the hardware are provided by the clearly arranged graphical interface.  Data storage makes experiments traceable which can be extremely important and substantially reduce the number of experiments.

Regardless of whether chemical development is in early stage development, reactions need to be optimized for an optimal performance, solvent screening or dangerous reactions are carried out, iControl EasyMaxTM helps maximize the capabilities of EasyMaxTM.

iControl EasyMaxTM helps make chemistry easier and perform tasks better.
Features and Benefits
Interactive user interface for direct control
Multiple reactor support
Independent experiments for maximum flexibility
Detail screens for individual reactors
Overview screens for multiple reactors
One-click change of key set points
Graphical and list view of the method
Fully pre-programmable methods
Built-in chemical database
Simple and powerful data handling
Comparison of different experiments
Comprehensive reports with one click
Data exchange with external applications
Bi-directional communication with iC IRTM and iC FBRMTM software