Vision Inspection Systems for Print, Label and Packaging
Turnkey machine vision systems to ensure the quality of labels and packaging
Machine Vision Systems

Turnkey machine vision systems for product labels and package integrity

As production speeds increase across many industries to k...


Turnkey machine vision systems for product labels and package integrity

As production speeds increase across many industries to keep up with an equally rapid growth in product demand, the risk of a defective product being produced and making its way to a retailer shelf also increases. Using a METTLER TOLEDO machine vision solution drastically reduces the risk of a defective label or package causing a product recall or expensive rework by inspecting every product on the line with a level of accuracy unattainable by manual inspection methods.

METTLER TOLEDO PC-controlled machine vision systems run on our state-of-the-art CIVCore software, which comes with a statistics package that not only shows the number of defective products, but can report why those products are defective. The software's robust statistical package helps manufacturers to spot failure trends, highlighting weaknesses in the production process, while comprehensive user logs increase operator accountability when it comes to properly utilizing the vision system.

METTLER TOLEDO offers multiple vision inspection system configurations to fit your precise requirements, ensuring that you only pay for the inspections and equipment you absolutely need, including Smart Camera-based systems for simpler, cost-effective inspection applications. Both our PC-controlled and Smart Camera solutions support a touchscreen interface which displays system health and the number of defective products detected. Pre-configured inspection profiles allow for rapid product changeovers – or for hands-free changeovers, manufacturers can connect vision systems to their pre-existing central control systems.

Inspection solutions with METTLER TOLEDO

With over 30 years' experience, METTLER TOLEDO produces vision inspection systems that provide optimal protection against defective product packaging and poor-quality labeling, mitigating recalls and label mix up. Operating globally, METTLER TOLEDO has installed systems across the world, and our expert support staff keeps systems running smoothly, providing regular maintenance. Manufacturers seeking to maximize vision inspection efficacy can benefit from our advanced training courses, which are aimed at unlocking the full potential of their vision inspection program. METTLER TOLEDO inspection solutions cover:

Label and print inspection
Glass container and bottle inspection
Carton and box inspection
Tray and flat pack inspection
Rigid plastic container inspection
Filled bottle inspection
Content inspection and more

Common inspections include: label position and presence, print quality, barcode readability and verification, closure presence, closure height and position (skewed cap), tamper band presence and integrity, container contamination, sealing surface integrity, neck thread formation, flashing and container integrity. Contact the METTLER TOLEDO team for more information on our machine vision inspection systems and how they operate.
METTLER TOLEDO turnkey machine vision systems are designed from the ground up to inspect product labels across all market segments and packaging types, with the flexibility to perform additional formation and integrity checks on packaging should manufacturers require them. Our easy-to-use machine vision systems perform accurate label and package quality inspections on plastic containers, glass bottles, jars, screw or snap-on caps, flat packages, cartons and pill packs. METTLER TOLEDO systems are capable of operating at high speeds, allowing manufacturers to maintain throughput without compromising label and package quality.

Additionally, our powerful CIVCore software provides an easy-to-use platform configured for the vision inspection needs your production line requires.

The METTLER TOLEDO V24 series of vision inspection systems perform print and label quality inspections on round, un-oriented products.

The METTLER TOLEDO V26 series of vision inspection systems perform critical print, label and package quality inspections on flat, oriented products.

A comprehensive inspection solution for rigid plastic containers, ensuring proper formation and surface quality.

The METTLER TOLEDO V28 series label systems both print and inspect product labels on the web to ensure label quality before application.

Round, Un-oriented Packages

Our unique un-oriented inspection techniques can locate and verify important label information regardless of product orientation.

Print and Label Quality

The V24 ensures the right label is present and looking its best.

Flat, Oriented Packages

Ensure print, label and package quality on flat, oriented products.

Print Quality and Code Reading

Ensure the presence and readability of important printed information.

Inspection of Rigid Plastic Containers

Ensure the proper formation of blown rigid plastic containers.

Surface Contamination Detection

Identify and remove containers with surface burns or other contamination.

Standalone Printing and Inspection

Quickly produce and verify product labels on the web using a single system

Template Label Designs

Product label templates allow for fast configuration of new label design and easy updating of variable information on labels.
Services
Global Service, Training and Support from an Industry Leader in Vision Inspection Systems
Explore our Services - Tailored to Fit your Equipment
We support and service your product inspection equipment through its entire lifecycle, from installation to preventive maintenance and calibration to equipment repair.

Publications
Download White Papers, Guides and Other Vision Inspection Documentation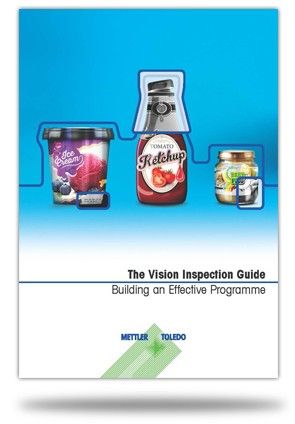 Complete Guide to Vision Inspection
Vision inspection systems meet the challenge of increasing product quality without sacrificing production speeds. CI-Vision's Reduction of Product Defects: Building an Effective Vision Inspection Program includes: technology of vision inspection systems; vision systems in the production process: maximising vision inspection program performance. Ask for this free guide - build an effective vision program. Request this free guide - build an effective vision program.
White Papers

This white paper looks at the most common food safety standards and their latest requirements. It also explains how food manufacturers can meet these...

A white paper describing seven ways service support from a product inspection equipment supplier can help manufacturers gain food safety certification...

White paper explaining how food manufacturers and brand owners can benefit from consistent conformity of packaged food.

As consumers become increasingly concerned about the contents of the products they use, government regulations regarding proper labeling of products h...
Brochures

ProdX allows you to connect and control your entire product inspection management process from a single point or from multiple remote locations, elimi...

The V2630 offers standard configurations to support front and back label inspection, plus an optional cap and fill level inspection.

Supporting multiple applications in the inspection of oriented containers, the V26 Series from CI Vision is available in many configurations.

Vision Inspection Systems from METTLER TOLEDO CI-Vision are part of an integrated hardware and software solution, designed to provide sophisticated sy...
Production Trial Program
Free two week installation to trail our vision systems in your production line
Production Trials for Peace of Mind
Get Hands-on with Vision Technology
Investing in vision inspection requires thorough analysis to ensure all necessary quality assurance requirements are met, and it is important to us that you have the opportunity to see what our systems can do with your own eyes. To that end, we make it easy to spend time with our vision systems – whether it is from a visit to our main facilities in the United States and Germany, or a visit to one of our Market Organizations across the globe. Simply get in touch with us and we will be happy to make an appointment. Send product samples to us beforehand and we will even set our systems up to perform inspections on your specific packaging, proving the abilities of our systems.
---
Production Trials
It is one thing to see our systems ensuring the quality and integrity of your products at one of our locations, or during a visit at a trade fair – but we understand a real production environment can be something altogether different. That is why we also offer the opportunity for you to conduct a no-obligation system trial of up to two weeks at your own production facility. We install a vision system on your production line and allow you to see the benefits of vision inspection for yourself. Contact us today to find out if you qualify for this program.