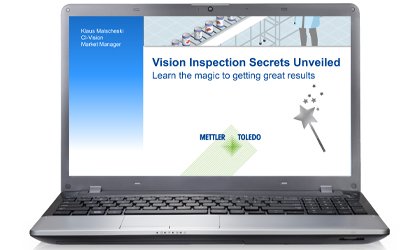 This webinar discusses the key considerations for vision inspection systems and reveals insights in choosing the right system for you.
Considering the complex production environment for manufacturing foods, cosmetics and pharmaceuticals, it is critical to ensure each package meets stringent quality standards. Every food package, for example, needs to ensure allergens are declared on each label – missing this information could lead to a serious adverse reaction by the consumer, and a costly recall for the manufacturer. Implementing a vision inspection program can help you to:
Minimize Rework — Ensure accurate product changeovers
Mitigate Recalls — Catch mistakes before they proliferate into the distribution channels
Reduce Waste — Review product info before valuable product is filled into packages
Improve Efficiency — Use critical production data to analyze where typical errors occur
Brand & Consumer Protection — Reduce quality defects and mislabeling
Learn in this webinar the secrets to vision inspection and the different inspection options available from METTLER TOLEDO:
Simple Applications – Read codes such as 1D, 2D codes and alphanumeric text on many package types.
Intermediate Applications – Read codes, verify label quality and cap colours on cartons, or flat containers.
Complex Applications – Read codes, verify labels/caps, and top label cap content on challenging packages such as round bottles.