A Wide Range of Lab Equipment
For Your Laboratory Applications
METTLER TOLEDO offers a broad portfolio of high performance laboratory instruments for many applications in e.g. pharmaceutical, chemical, F&B, academic and testing labs.
We use our many decades of expertise to develop high quality instruments to meet the key needs of any laboratory: reliable results, efficient workflows and ease of use. Our comprehensive set of software, accessories and consumables, support compliance, enhance the instruments' performance and simplify your work in the lab.
See the product range overview below.
Our Newest Laboratory Products
XSR Analytical Balances
Ensure maximum productivity thanks to fast results, ergonomic processes and easy cleaning features.
Laboratory Catalog

Our Complete Laboratory Product Portfolio
Our comprehensive catalog provides a detailed overview of our complete range of instruments, software, accessories, consumables and services.
A Global Innovator in Laboratory Instrument Manufacturing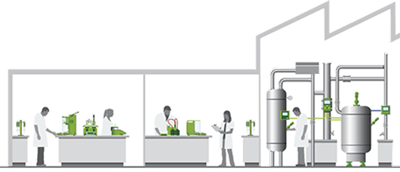 For decades, METTLER TOLEDO has been a global leader in manufacturing state-of-the-art precision instrumentation for laboratory assays. Supporting the value chain from R&D to scale-up, production, QC and beyond, our equipment spans the range from weighing to liquid handling, and from chemical syntheses to detailed analyses via titration, spectroscopy and more.
With a full range of services, including assistance with selection, installation and calibration of lab instruments, and training on effective technique, we enable our customers to gain the most from their purchases throughout the product lifecycle.
Among our innovations are
Our durable, easy-to-clean balances. Launched in 1945 as the first ever with a single weighing pan, they inspired the design of all subsequent laboratory balances. Now with up to six decimal places of accuracy, they remain trendsetters.
Our extensive expertise in electrochemistry, which dates back to the invention of the combined pH electrode, by Dr. Werner Ingold, in the 1950s. Ever since, our electrochemical sensors have been renowned for their precision and durability, and now even carry their latest calibration data and use history with them.
Our highly reliable calorimeters and automated reactors, including unique solutions for automated sampling of chemical reactions and our leading inline particle analysis and spectroscopy, including Raman.
Our robust and easy-to-use pipettes. From the early days of manual liquid transfer, our pipetting portfolio has evolved to cover single-channel, multichannel and high-throughput devices. Our current emphasis on ergonomics makes loading and ejection a snap; our TerraRack™ tip racks use half the plastic of, while remaining as strong as, conventional racks, reinforcing your efforts toward sustainability.
Our full catalog of automation solutions, which allow the seamless execution of workflows involving one or more instruments.
Our comprehensive laboratory software, conceptualized to facilitate data management, analysis, archiving and audits alike.