PS C18 10 µL Unv Tips 96-pk PT-C18-96
PureSpeed Desalting Tip, universal with C18 resin.
PureSpeed™ sample preparation tip with C18 resin for desalting, 10 μL max. volume for universal-fit pipettes, 96 tips in 1 rack (PT-C18-96)
Superior capacity and sequence coverage
Improve your mass spectrometry data with E4-XLS and PureSpeed C18 desalting tips
Parallel processing of 1-12 samples
Higher desalting capacity, sequence coverage for less cost - manual or electronic pipette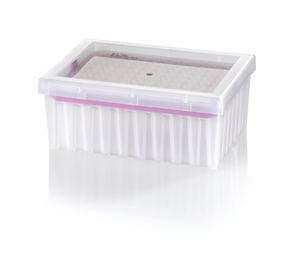 Experience the PureSpeed difference!
With greater desalting capacity and less ergonomic strain, Rainin's PureSpeed C18 Desalting Tips are superior to other technologies.

Their greater yield translates into higher peak intensity in mass spectrometry and better data. And with either a manual or electronic multichannel pipette, users can quickly and easily desalt up to 12 samples in parallel. The one-step desalting procedure and low elution volume enable these tips to deliver clean, highly concentrated sample. Available in universal and LTS tip formats.

Highest Capacity
Compared to other desalting tip technologies, PureSpeed C18 Desalting Tips offer the highest peptide capacity – >10 µg. This is critical in generating high-intensity sample spectra during mass spectrometry experimentation.

Better Sequence Coverage
PureSpeed C18 Desalting Tips show minimal loss and higher resulting sequence coverage in mass spectrometry experiments compared to competing technologies. Simply put, PureSpeed provides superior data.
Spesifikasjoner - PS C18 10 µL Unv Tips 96-pk PT-C18-96
| | |
| --- | --- |
| Volume | 10 µL |
| Maximum Volume | 10 µL |
| Parameter | Desalting |
| Quantity | 96 tips per rack |
| Tip Technology | Universal |
| Material nummer | 17014046 |
Volume:10 µLVolume:10 µLMaximum Volume:10 µLMaximum Volume:10 µLParameter:DesaltingParameter:DesaltingQuantity:96 tips per rackQuantity:96 tips per rackTip Technology:UniversalTip Technology:Universal
Tilbehør
E4 XLS+ enkanals elektronisk pipette
Manuell Pipet-Lite XLS+ enkanals