X36 Series DXD X-ray Inspection System
Detecting Hard-to-Find Contaminants.
The premium DXD x-ray detector delivers outstanding levels of inspection performance in a variety of packaged food applications. The DXD is a dual energy solution installed into the established X36 Series, providing a high level of brand protection.
Achieving Outstanding Quality Assurance
Achieves outstanding product safety by providing advanced levels of contamination detection of low-density contaminants in overlapping products.
Assisting with Challenging Applications
Capable of detecting hard-to-find contaminants in a variety of applications. It offers clarity and precision in complex areas of product inspection.
User-friendly Features
Automated product set-up and intelligent software improve uptime, reduce costs and enhance detection sensitivity and minimize False Reject Rates.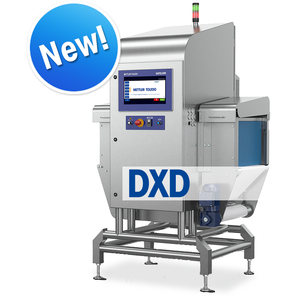 Product Family:XRInspection00040015
Specifications - X36 Series DXD X-ray Inspection System
Brand Protection

Outstanding sensitivity of metal, glass, mineral stone, calcified bone and high density rubbers
Compliance

Support FSMA and all GFSI codes including BRC & IFS
Ease of Use

High performance x-ray software can reduce the need for manual adjustments and the potential for human programming errors
Increased Productivity

World class reliability and OEE reporting
Conveyor Speed (dependent on product dimensions)

10 - 100 m/min
X-ray Detector Width and Diode Size

300mm, 400mm, 500mm, 600mm - 0.8mm diode size
Industry

Pet Food
Pharma
Food

Number of Lanes

Multi lane
Single lane

X-ray Generator

100W (84kV, 1.2mA Beryllium Tube)
X-ray Beams

Single vertical beam
X-ray Emissions

< 1uSv/hr
Reject Type

Pusher or airblast options
Cooling Method

Air Conditioner
Operating Temperature

5 °C - 40 °C
Power Supply

208 - 240 Vac, 1 phase, 50-60 Hz, 10 A max 100 - 120 Vac, 1 phase, 50-60 Hz, 16 A max
HMI

15.6" Capacitive Touchscreen display (16:9 aspect ratio)
IP rating

IP65 as Standard
IP69 available

Product Type(s)

Medium - Large Packaged Products
Packaging Material

Aluminium Foil
Metalized Film
Cardboard
Plastic

X-ray Detector

Dual Energy
Continuous Innovation
At METTLER TOLEDO we design and produce our proprietary detectors and the DXD is one of our newest developments. The DXD detector installed into the X36 X-ray Inspection System enables your business to uphold the highest safety and quality standards.

Meeting Customer Requirements
The X36 with DXD is a highly configurable solution, offering the highest level of integrity checks across single or multiple product lanes, at high throughput rates, for exemplary brand protection and compliance.

Five-year Generator Warranty
Minimize your downtime and protect the most valuable and expensive part of your inspection system, the x-ray generator, for five years when purchased with a Standard or Comprehensive Care Package.

Global Service Support
A global network of experts provides fast remote and on-site support. Our comprehensive service offering supports you to achieve regulatory compliance, highest performance and maximum uptime throughout the lifecycle of your product inspection equipment.

Enhancing Production Data Visibility
Ensure the highest levels of regulatory compliance through real-time data collection. ProdX, our PC-based software, constantly monitors and fully documents all production parameters, quality incidents, user interactions and performance verification routines.

Documentation