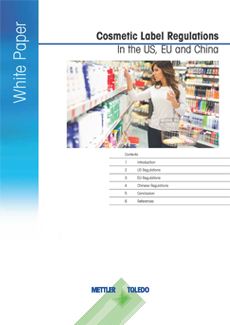 Cosmetic Label Regulations in the US, EU and China.
In order to ensure the safety of consumers, labeling regulations are in place for cosmetic products mandating the presence of information required by governing bodies. In some countries, failure to adhere to the regulations may result in an outright ban on the sale of that product in the region.
While many countries are working together to develop regulations that are aligned, significant differences in regional requirements still remain.
This white paper seeks to outline regulations governing the labeling of cosmetics in key global regions. It provides useful guidance for manufacturers already trading in these markets as well as those looking to enter.
The white paper focuses on the regulations in three major economic regions:
United States
European Union
China
Download this informative white paper to learn more
In the highly competitive cosmetics market, it is more important than ever for manufacturers to do everything necessary to make their products stand out to the average consumer. Accomplishing this goal often relies on making product labels which will catch the eye of potential consumers and effectively make an argument for the product. When designing those new labels, however, it is important to keep the legal requirements of the intended market in mind.
In recent years the United States and European Union have both attempted to unify their regulations in an effort to make trade between territories easier. However there are still some significant differences between the two regions mostly relating to local terms used for particular ingredients. Unfortunately this means that no label design exists which would satisfy every requirement. Manufacturers must therefore continue to rely on multiple label designs in order to sell into different territories, which means keeping up to date with the latest regulations
Related White Papers

This white paper details all relevant labeling information a manufacturer needs to know to minimize the threat of both product recalls and causing the...

Understanding the different types of codes found on products and the factors which need to be understood when creating them

This white paper explains the concept and principles of due diligence especially its importance in terms of providing a basis for a legal defence.

A white paper outlining the key requirements for medical device labeling in the US, EU and China.
Vision Inspection Solutions
Implementing a machine vision inspection program brings advantages to the production process, including increased brand protection and improved efficiency.

Automated in-line vision inspection systems for inspection of alphanumeric, 1D and 2D barcodes on product packaging surfaces and labels.

Machine vision inspection systems for label inspection, print inspection and other label quality applications. Prevents label mix-up and other errors.

Vision inspection systems for fill level, cap presences and skew applications as well as tamper band integrity.

Vision inspection components for OEMs to use in development of new production lines and equipment with vision capabilities.

Machine vision inpsection systems for package and tray seal inspection. Verify seal areas for contamination to help ensure closure integrity.