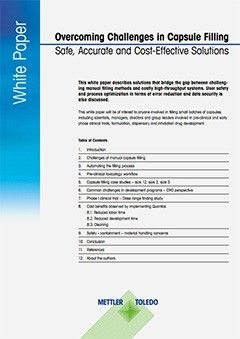 Overcoming Challenges in Capsule Filling
Filling capsules is a very common activity in pre-clinical and first-in-man studies. However, the method used for this procedure typically depends on the throughput required and the resources available. It is often performed manually, usually because batch sizes are too small for filling machines or different quantities are required per capsule, which is not easy to automate.
Unfortunately, manual capsule filling can be slow and tedious and can present potential error, as well as safety risks. On the other hand, automated capsule filling machines are often expensive, require costly maintenance and time-consuming cleaning. Low-cost capsule boards are an extremely fast but inflexible method of filling capsules, with several drawbacks.
This white paper describes these common challenges in capsule filling with examples, and presents an alternative solution, which bridges the gap between manual and automated procedures. It highlights the main benefits of implementing Quantos, an intelligent technology for automated powder dosing, integrated on METTLER TOLEDO analytical or micro balances.
Furthermore, the readers will be presented a real-life example – a case study –  of a leading contract research organization (CRO) who faced some challenges in capsule filling, which were resolved by implementing Quantos.