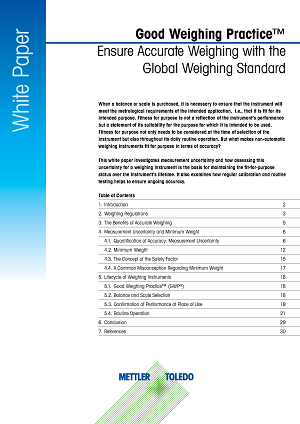 Ensure lifetime fitness for purpose with the Good Weighing Practice.
Weighing is an essential first step in almost every laboratory and production procedure. To ensure weighing accuracy, balances and scales need to be fit for their purpose. But what exactly are the criteria that make non-automatic weighing devices fit for purpose in terms of accuracy? This white paper investigates measurement uncertainty and how assessing this uncertainty is the basis for selecting the correct weighing device and maintaining the fit-for-purpose status over the device's lifetime.
In 2007, to help ensure weighing accuracy, METTLER TOLEDO developed the globally recognized standard, Good Weighing Practice™, also known as GWP®. It is a standardized, risk-based approach for the secure selection, calibration, and routine operation of any weighing device from any manufacturer in any workplace or industry. Its scientific principles are incorporated into many guidelines and standards such as USP, European Pharmacopoeia, ISO, and ASTM.
The goal of the Good Weighing Practice is to select and maintain balances and scales in laboratories and production environments that are fit for purpose in terms of accuracy. Adhering to its scientific principles provides multiple benefits, including improved quality, reduced costs, and regulatory compliance.