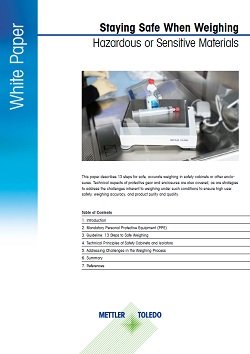 Stay Safe When Weighing Hazardous Materials
Many substances processed in today's working laboratories or production environments must be kept pure. Moreover, many of these substances also pose a risk to user safety, particularly in microbiological and pharmaceutical settings. To ensure purity and avoid dangerous cross-contamination, personal protection for the user as well as protection for weighed substances is essential.
 
How to Keep Operator Safety and Maintain Product Quality
Containments such as safety cabinets and specialized isolators for sensitive and hazardous materials that pose a threat to human health require a highly clean environment. These enclosures provide a higher degree of protection than standard fume hoods or weighing cabinets.
However, it may be difficult to avoid exposure risk completely, particularly in the case of accidental minor or major spills. To further limit exposure risk, operators must adopt safe weighing principles including appropriate operational protocols (e.g. training, SOPs, hygiene management).
13 Steps to Safe Weighing
This paper describes 13 steps for safe, accurate weighing in safety cabinets or other enclosures. Technical aspects of protective gear and enclosures are also covered, as are strategies to address the challenges inherent to weighing under such conditions to ensure high user safety, weighing accuracy, and product purity and quality.