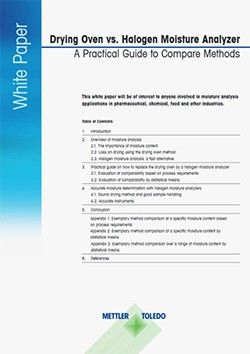 Drying oven vs Halogen Moisture Analyzer
Drying oven vs. Halogen Moisture Analyzer guide will be of interest to anyone involved in moisture analysis applications in pharmaceutical, chemical, food or other industries, as moisture content affects the quality, shelf-life and usability of a wide array of end products.
This white paper explains and provides practical guidance of how halogen moisture analysis can replace the loss on drying (LOD) using a drying oven method, in order to speed up and simplify the analysis.
In the field of moisture determination using loss on drying techniques, a common question is:
"Can the drying oven method be replaced by fast halogen moisture analysis?"
The simple answer is yes, as long as the results obtained by the two methods are comparable. This means that it is necessary to show evidence that the results are equivalent within specific tolerances, which is not such a straightforward question to answer.

This white paper guides the analyst through this process. It explains the key decision criteria surrounding the choice of method and provides practical guidance on how to demonstrate that the two different methods (drying oven and halogen moisture analyzer) deliver comparable results.
In addition, two alternative and acceptable comparison approaches are outlined in this paper: the first approach is based on specific process requirements (tolerances), and the second approach is based on statistical analysis of the data obtained.