System Integration and OEM Partnerships
A Full Spectrum of Easy to Integrate High Quality Solutions
Introduction
METTLER TOLEDO as the market leader of advanced product inspection solutions supports packaging line and system integrators through the provision of advanced product inspection solutions. Working with us ensures your customers benefit from the expertise of your own team combined with the industry knowledge our engineers bring to the project.

Whether it's a small, critical components to integrate into your own equipment, a discrete inspection unit in a multi-stage production process or a fully integrated multi-function process or packaging line, we are able to give input and support the project.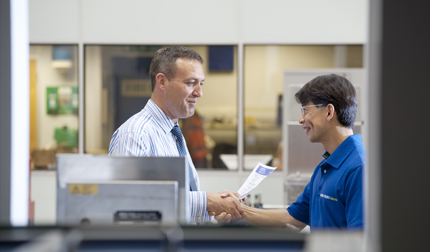 Competence and Applications Expertise
The applications knowledge of our engineers and technicians, combined with a huge installed base of equipment, means that we are able to draw on a wide range of expertise. This means that we provide solutions that can meet the needs of you and your customers perfectly every time. With METTLER TOLEDO you benefit from:
The widest portfolio of product inspection technologies
High-performance, reliable solutions for the present and the future
Solutions that guarantee compliance with existing and upcoming standards and regulations
Multiple Inspection Technologies
Our modular solutions and concepts include highly accurate checkweighing technology to ensure correct contents, metal detection and x-ray inspection systems with the capacity to detect the smallest while ensuring package integrity and advanced vision systems that are able to carry out label inspection and conduct further package integrity checks.
Full Support Throughout the World
We realize your solutions could be installed almost anywhere in the world and you need the reassurance that someone will be there if support is needed. Our network of specialists around the world are on call to ensure your customers enjoy maximum system uptime.

Our 3,500 highly qualified technicians in 36 countries are available to help with installation support, user training, ongoing and preventative maintenance and after-sales support regardless of the location of the final installation.
Checkweighing Solutions
Our standard and highly customized checkweighing solutions are built to suit specific applications and environments. Checkweighing systems can be stand-alone or fully integrated into equipment or processing and packing lines. Checkweighers support compliance with regulatory and industry standards by meeting Weights and Measures demands. Systems can also provide critical control over processes to avoid costly product give-away.
Metal Detection Solutions
The quality and safety of the products made by your customers is critical to both your own business and theirs. Safeline metal detection solutions are able to detect and remove all metal contaminants and are available to suit a wide range of products and applications including:
Conveyorized inspection of loose and package goods
Inspection of vertically packaged and gravity-fall bulk products
Screening of liquids, pastes and slurries in process pipelines
X-ray Inspection Solutions
Manufacturers rely on in-line x-ray inspection systems to ensure the quality and integrity of their product meets the needs of standards and regulations. In so doing, x-ray systems protect the welfare of consumers and afford protection to the reputation of the manufacturer. Safeline X-ray technology provides solutions to:
Detect and remove contaminants including metal, glass, calcified bone, stone and dense plastics
Check fill-levels in packages and containers
Ensure all components are present within a package
Inspect packages for damage and seal integrity
Vision Inspection Solutions
Research shows a large proportion of product recalls are due to labelling related issues. Taking steps to check each and every product is labelled correctly can significantly reduce the risk of costly recalls. Our vision inspection systems are also able to carry-out other inspection processes to ensure package quality. Vision Inspection systems are able to:
Check the correct label has been applied in the right position on containers
Confirm allergen declarations are in order to meet standards
Inspect for damaged or torn labels
Ensure fill levels in containers are correct
Check that bottles are formed correctly and caps are applied
Inspect packages for external damage or integrity issues
Services
Global Service and Support - Tailored to Fit your Equipment Requirements
Explore our Services - Tailored to Fit your Equipment
We support and service your product inspection equipment through its entire lifecycle, from installation to preventive maintenance and calibration to equipment repair.