Geological Survey & Ore Preparations
Highest Weighing Accuracy
Weighing plays an important role in metal mining, such as for exact precious metal content determination using the well-established gravimetric fire assay or for weighing-in large amounts of ore samples. METTLER TOLEDO balances are highly reliable and offer high-precision weighing both in the lab and when working under harsh and dusty mining conditions.
Mine operations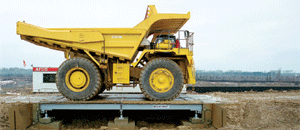 Reliable Heavy Duty Weighing
Incoming raw ore or refined metals are easily weighed with METTLER TOLEDO's innovative and reliable heavy duty weighing solutions. Whether transporting the recovered materials by truck or on conveyers, METTLER TOLEDO offers the ideal scales to meet every demand.
Extraction & Concentration
Exact and Robust Process Monitoring
Process monitoring in mines demands robust and reliable solutions. In-line measurement solutions from METTLER TOLEDO master even the most demanding conditions of temperature or pressure optimizing process quality and throughput. Our solutions include several types of sensors, transmitters, housings and cleaning systems.
METTLER TOLEDO - A trustworthy Service partner for your equipment
 
METTLER TOLEDO strives to meet your specific service needs. We offer a wide array of services, including a comprehensive weighing service portfolio, laboratory balance services, industrial scales service, and other measurement equipment services. Our factory trained technicians will support you in anything from scale warranty to conducting thorough balances services using professional and proprietary measuring tools. Keeping your equipment compliant and at peak performance throughout its lifecycle, METTLER TOLEDO services scale the support required for your equipment.
Let us be your trusted advisor and provide the necessary service balance between environment requirements and your production needs.