pH Sensors, Calibration Buffers and Care
Reliable pH measurements through regular sensor calibration and maintenance
Uptime of Your pH Measurement System –
Regularly Calibrate and Maintain Your Sensors
Sensor calibration is crucial and we recommend determining the status of your calibration slope and offset on a daily basis. Always use fresh calibration solutions to minimize measurement uncertainty and to optimize the reproducibility of your results. Get useful tips on sensor selection, calibration, and maintenance in our Good Electrochemistry Practice™ (GEP) program.
Intelligent Sensor Management –
Easy Handling, Data Security, and Lifetime Monitoring
Intelligent Sensor Management (ISM®) is a sophisticated safety concept that leaves nothing to chance. With this technology, the instrument will automatically detect a connected sensor and will use the most up-to-date calibration data stored on it. Further information concerning lifetime is monitored. However, the clearest indication that the sensor has reached its end of life is a reduced calibration slope.
Sensors
Sensors for pH, conductivity, ion concentration, dissolved oxygen, and redox potential.
| | | |
| --- | --- | --- |
| | | |
| | | |
| Routine to highly-specialized pH sensors provide accurate readings for a wide range of laboratory and field applications. | Robust conductivity sensors for precise determination across the entire conductivity range. | Quick and easy determination of the concentration of a variety of dissolved ions and gases. |
| | | |
| | | |
| --- | --- | --- |
| | | |
| | | |
| Optical and polarographic electrodes for reliable determination of dissolved oxygen concentration. | Accurate and reliable sensors that measure the Oxidation Reduction Potential (ORP). | |
| | | |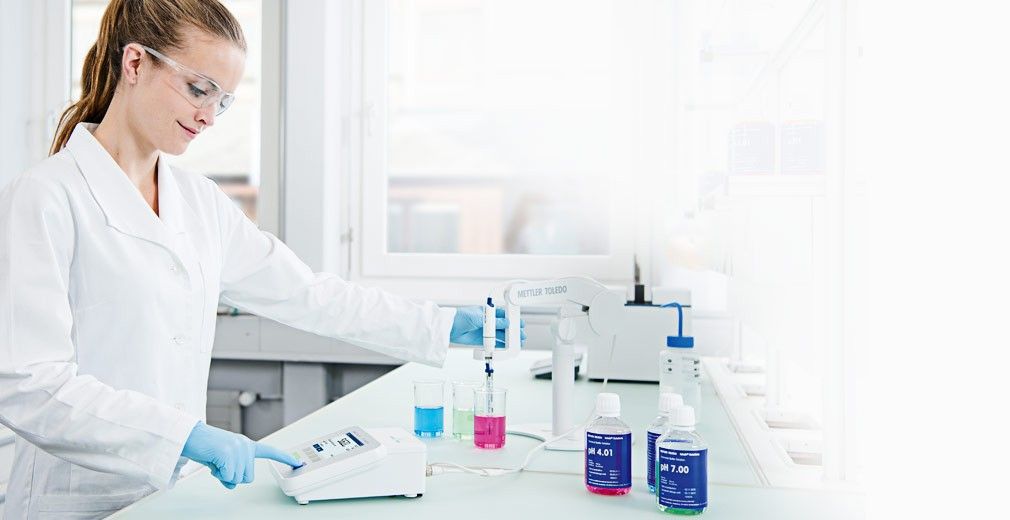 pH Measurement Accuracy –
Highly Dependent on Your Calibration Habits
pH measurements are only as accurate as the buffer solutions used for calibration purposes. in addition, the quality of a solution is only guaranteed for unopened bottles that have not yet expired. No matter if you are looking for traceable technical buffers, or buffers that are certified by an accredited body, you will find the right solution. Maximum accuracy is guaranteed with our NIST/DIN buffers. GEP offers useful tips on how to optimize the use of calibration solutions.
Buffers, Solutions and Electrolytes
Buffers, Solutions and Electrolytes. Calibration, Storage, and Maintenance Made Easy
| | | |
| --- | --- | --- |
| | | |
| | | |
| Traceable technical, certified, and NIST/DIN pH buffers ensure accurate pH calibrations, and are available in bottles or single-use sachets. | pH storage and maintenance solutions ensure accurate readings and maximize sensor life. | NIST traceable standards cover a wide range of conductivities, and provide easy and accurate sensor calibration or verification. |
| | | |
| | | |
| --- | --- | --- |
| | | |
| | | |
| Electrolytes, ionic strength adjustment solutions, and calibration standards ensure accurate ion concentration determinations. | ORP/redox buffers offer high precision to ensure compliance and traceability. They verify a sensor easily and accurately. | Zero oxygen tablets are ideal for sensor calibration, verification, and conditioning at low dissolved oxygen levels. |
| | | |
Comprehensive pH Measurement Systems – to Meet Your Requirements
Our portfolio covers a wide range of measurements including pH, conductivity, ion concentration, ORP, and dissolved oxygen. Whether you are looking to meet stringent compliance requirements or for routine measurements on a budget, we have the right pH meter for you. We offer simple PC software to log your measurement results as well as our sophisticated LabX software, which offers benefits such as increased data security. With our InMotion™ sample changer, your pH measurement process can be automated. In addition, our Expertise Library offers the wealth of knowledge needed to achieve accurate and precise results in the form of webinars, guides, and whitepapers.