Laboratory pH Buffer
pH Buffers for Calibration to Ensure Compliance and Traceability
A pH buffer is a reference solution of known pH value that is used for sensor calibration. pH buffers are key to ensuring accurate pH readings. Select from our comprehensive range of accurate pH calibration solutions, from technical buffers, buffers certified by an accredited body (DAkkS), to NIST/DIN buffers for high precision. To minimize contamination risk, choose small bottles or single-use sachets.
Add 1 or 2 more products to compare
Advantages of METTLER TOLEDO's pH buffers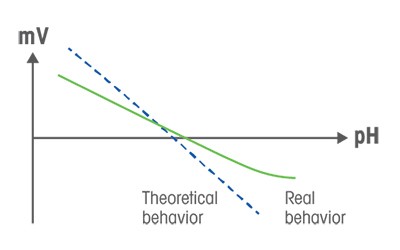 Get Accurate pH Readings
pH readings are only as accurate as the solutions used for calibration. Our comprehensive portfolio of pH calibration solutions satisfies every accuracy requirement. From technical buffers to pH buffers certified by an accredited body, we have the most suitable buffer for every application.
Minimize Contamination Risk
For high accuracy, uncontaminated buffers are of utmost importance. Our sachets ensure a fresh solution with the appropriate volume to perform a calibration directly in the sachet for maximum ease of use. 250mL bottles enable easy handling and reduce contamination risk in comparison to bulk containers.
Download Your Certificate of Analysis
A lot-specific certificate of analysis is available for every calibration solution, documenting accuracy and providing traceability to national metrology institutes for quality control. To support compliance with regulations, each SDS (Safety Data Sheet) and label contains information according to GHS (Globally Harmonized System) in local languages. Read more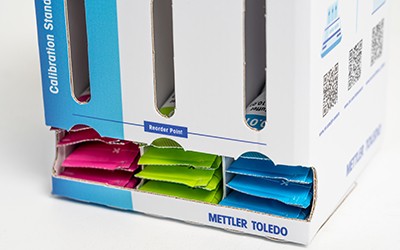 Manage Your Sachet Stock
Thanks to the open magazines of the dispenser box, the number of remaining sachets can be easily determined, even from a distance. A reorder indicator helps to prevent running out of stock.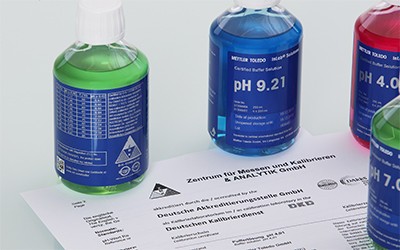 Certified by an ISO/17025 Accredited Lab
Our DAkkS certified pH buffers are verified by an independent, ISO 17025 accredited laboratory, providing confirmation of the pH value and associated uncertainty, making them a suitable choice for highly regulated industries.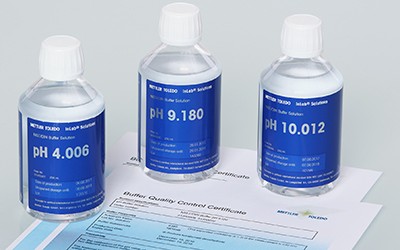 Achieve Top Accuracy with NIST/DIN Buffers
NIST/DIN pH buffers are manufactured according to DIN/ISO 19266. They are specified to three decimal places, e.g. pH 9.180, offering a low uncertainty (± 0.015 pH).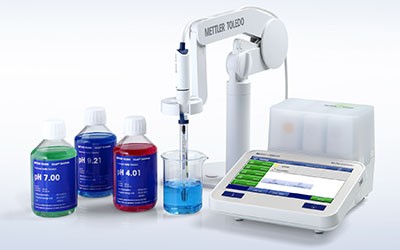 A Complete System Provider
METTLER TOLEDO provides entire electrochemistry systems - from meters and sensors to calibration solutions and software. Benefit from automatic buffer recognition or temperature dependency tables for automatic accurate temperature compensation.
Explore Our Services - Tailored to Fit Your Equipment
We support and service your measurement equipment through its entire life-cycle, from installation to preventive maintenance and calibration to equipment repair.