Laboratory pH Sensor
Accurate pH Electrodes and Probes for a Wide Range of Laboratory and Field Applications
For a Wide Range of Specific pH Applications
Accurate pH measurements begin with the right pH sensor. We combine high-quality materials and technologies to ensure performance, ease-of-use and durability in every sensor we produce. Our versatile pH sensor portfolio ensures a perfectly suited sensor for every application.

Intelligent Sensor Management (ISM®)
Sensors for Any Application
Our Intelligent Sensor Management (ISM®) is a sophisticated safety concept that leaves nothing to chance. With this technology, the instrument will automatically detect the connected sensor and will use the most up-to-date calibration data stored on the sensor.
ARGENTHAL™ Reference System
Traditional sensors include a conventional silver/silver chloride reference system where the electrolyte must be saturated with silver chloride. When measuring protein containing samples, this type of reference system will result in diaphragm contamination. Our ARGENTHAL™ reference system ensures the electrolyte will remain completely free of silver ions by including a silver ion trap.
SteadyForce™ Reference System
A pressurized reference system that prevents the junction from clogging, ensures constant electrolyte flow and guarantees highly reproducible results, even in viscous samples.
Integrated Temperature Probe
The pH value of a solution is temperature dependent. Our sensors include an integrated temperature probe that guarantees you are measuring with the right temperature compensation.
Maximized pH Accuracy
Fast and Reliable Results
pH measurements must be fast, accurate and reproducible. The membrane glass of our sensors is optimized for each application.
The included wetting cap ensures your pH sensor is kept hydrated and is ready-to-use at any time. Finally, our sensors offer different styles of junctions to ensure performance regardless of the sample type.
Maintenance Free
A highly robust PEEK shaft and an open junction create a durable sensor that is chemically and mechanically resistant. Solid XEROLYT® reference electrolyte requires no refilling, meaning the sensor is always ready to use.
Spill Free
An easy-to-use and spill proof wetting cap with a self-tightening screw lock ensures your sensor will remain clean and secure during storage.
Easy-to-Clean
A movable sleeve-junction enables easy and thorough cleaning of your sensor. This also allows for a simple exchange of the reference electrolyte when needed.
Flexible Connectivity
The S7 and MultiPin™ sensor heads offer flexibility and can easily be connected to any pH meter.
InLab® Sensors
Sensors for Any Application
The complete InLab® pH sensor portfolio covers the whole scope of applications. These range from routine measurements to specialist applications, be it in chemical, pharmaceutical, life science, food and beverage or a variety of other laboratory or production facilities.
To find your perfect match, visit our Sensor Selection Guide today.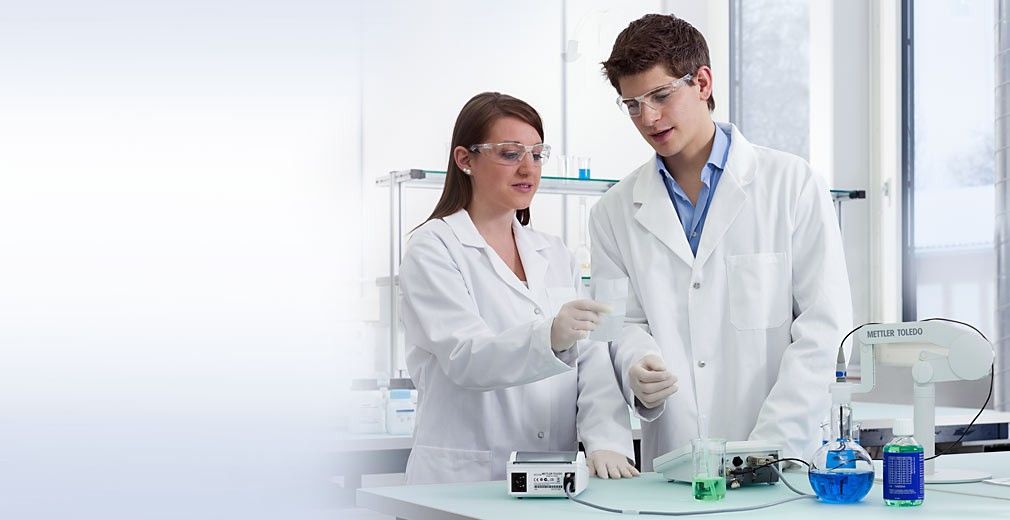 Complete Electrochemistry System
pH measurement does not depend only on your pH meter. All components in your system must be working at their best to provide reliable results.
Ensure your electrochemistry system is complete by choosing the right sensor, solutions and installation services for your specific needs.

Meters
To fit your electrochemistry system needs, we offer a variety of benchtop and portable meters that are professional and durable. Our portfolio offers products designed for compliance, routine measurements or anyone working on a tight budget.
Benchtop Meters
Portable Meters
Solutions
METTLER TOLEDO offers a comprehensive range of top quality buffers, standards, electrolytes, cleaning and verification solutions for determination of pH, conductivity, ion concentration, ORP and dissolved oxygen. All solutions are available in small volume bottles either in packs or single and single use sachets.

More about Solutions
Service
We offer different service packages depending on your needs. These range from professional on-site installation and configuration to documented proof of compliancy. If full coverage beyond initial warranty is desired, we offer an extended care package in the form of preventive maintenance and repair.
More about Service
Products and Specs
Documentation
Product Brochures

The manufacturing of high quality sensors with outstanding performance not only requires technical skills and expertise but also a profound understand...