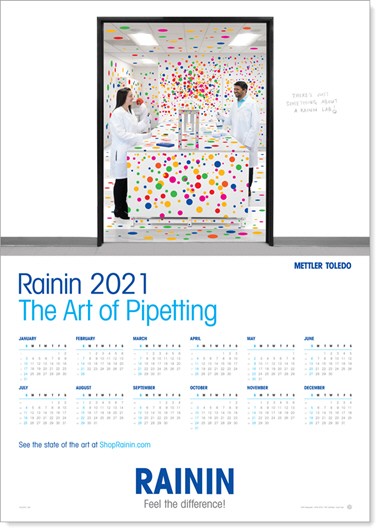 Rainin 2021 Calendar
With the Rainin Art of Pipetting calendar, each year we reinterpret the work of a famous artist to brighten your lab – and celebrate you, who have dedicated your career to advancing science and improving lives. As long as you continue to contribute your talents to science, you can count on Rainin to deliver the highest accuracy, best performing liquid handling equipment, consumables and service available.

Our 2021 Rainin Art of Pipetting wall calendar reinterprets the work of Japanese artist Yayoi Kusama. Her widely-recognized style features playful use of color and energy, which reflects both vitality and creativity – two great attributes for anyone working in a life sciences laboratory. So don't miss out – order your free Rainin Art of Pipetting calendar today!

Begins shipping November 2020.