Process Control for Exothermic Reactions
Understand and Control Grignard Reaction Development and Scale-up With Process Analytical Technology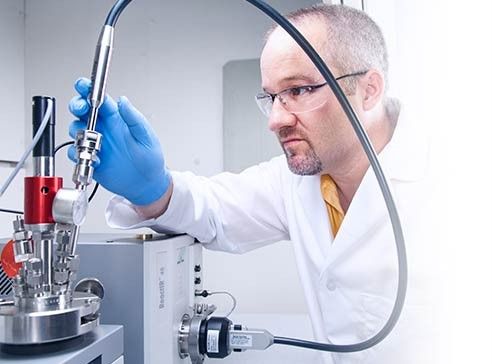 Scale-Up of Exothermic Chemistry
Exothermic chemical reactions pose inherent risks, especially during scale-up. These risks include safety hazards, such as excessive pressure, contents discharge, or explosion, as well as product yield and purity degradation associated with any sharp temperature rise. For example, preparation of Grignard reagents from organic halides and magnesium are common examples of synthetic steps with such risks. Inadequate control of Grignard reactions introduces safety concerns associated with the accumulation of the organic halide which, if undetected, can result in a catastrophic event leading to a runaway reaction.
Safe Development of Grignard Reactions
Grignard reagents are reliable chemical building blocks that are employed extensively to achieve carbon-carbon coupling. In a typical Grignard reaction, the strategy is to charge the reactor with Mg and THF, add <10% organic halide (R-X), raise temperature to reflux conditions, wait for onset of reaction initiation (by detecting an exothermic temperature rise), and then feed the remaining R-X. However, detection of the exotherm is difficult under reflux conditions at large scale. Therefore, ReactIR in situ mid-IR spectrocopy can be used to monitor the organic halide concentration and the formation of the Grignard reagent.
Tracking Reaction Initiation to Avoid Excessive Accumulation
The figure to the right shows how by using in situ spectroscopy with ReactIR, one can follow the key reaction components as the reaction progresses. The point of reaction initiation, and the subsequent formation of the Grignard reagent are continuously measured over the course of the reaction. This in situ measurement provides process knowledge for scale-up where offline sampling is impractical.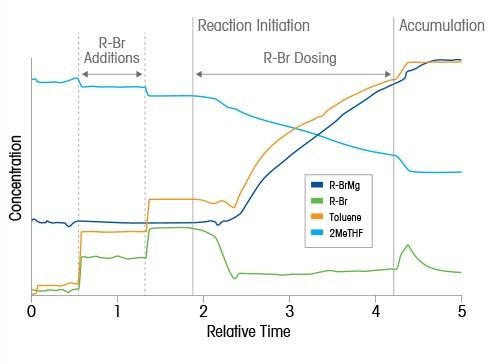 Control Heat Release with Process Analytical Technology
The relative R-MgBr concentration trend shows two initial additions of the aryl halide. The initiation doesn't occur until two hours into the reaction. This figure also presents the sensitivity of ReactIR to reaction progression during the remaining addition of aryl halide and formation of the Grignard reagent. With this kind of information, one can be sure the reaction is on course, and that there is a manageable accumulation of aryl halide. In situ ReactIR measurements determine reaction end point, and component profiles are used to develop a process monitoring strategy for optimum conditions and control.
4 Steps to Control & Scale-up Exothermic Grignard Chemistry
Published studies from top chemical and pharmaceutical companies show that by following four (4) key steps, exothermic Grignard chemistry can be safely scaled-up from bench to manufacturing. By applying these steps, safer processes with higher yields have been developed and scaled-up.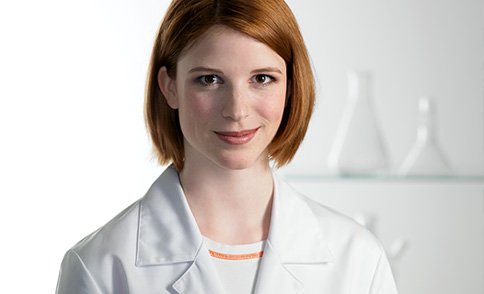 PAT in Exothermic Chemistry
Publications in Scientific Journals
Infrared spectroscopy is widely used to improve the safety and control of exothermic chemical reactions. Leading researchers in academia and industry employ in situ mid-FTIR spectroscopy routinely to provide comprehensive information rich experimental data that is used to advance research.
In Situ Reaction Monitoring
Mid-infrared attenuated total reflectance (ATR) technology offers numerous advantages over alternative analytical methods (including other molecular spectroscopy techniques). Researchers and scientists improve chemical development today by leveraging these advantages, including:
Impervious to bubbles or solids, making it ideal for hydrogenations or any heterogeneous reactions
Immersible for direct insertion into reaction vessel for in situ, real-time reaction measurements
No extractive sampling required, providing the ability to measure chemistry in its natural environment
Non-destructive, preserving the integrity of the chemical reaction
Instantaneous information can be gained about a reaction from ReactIR because it is an in situ technique. This is useful and a key benefit to gaining further insights into reaction behavior particularly where transient reactive species are involved.

Applications
Applications Related to Process Control for Exothermic Reactions
Publications
Publications Related to Process Control for Exothermic Reactions
White Papers and Guides

Exothermic chemical reactions pose inherent risks – especially during scale-up. Published studies from top chemical and pharmaceutical companies show...

Reaction Calorimetry provides an understanding of a chemical process and is a source of safety and scale-up information. Reaction calorimeters determi...

'How to do more with less?' is a constant topic in chemical development laboratories as researchers need to quickly and cost-effectively deliver chemi...
Citations

Continuous measurements from infrared spectroscopy are widely used for obtaining reaction profiles, which are used to calculate reaction rates. This...
Related Products
Technology Related to Process Control of Exothermic Reactions
Fourier Transform Infrared (FTIR) Spectrometers For Real-Time Monitoring Of Chemical Reactions
Reaction Calorimetry For Screening, Process Development, and Process Safety Studies