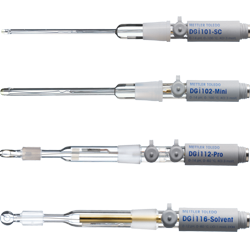 Ett brett utbud av kombinerade glas-pH-elektroder för vattenhaltiga, icke-vattenhaltiga prover eller media med låga jonstyrkor, samt för små eller svåra prover. Plug & Play-sensorerna är utrustade med ett integrerat sensorchips för automatisk igenkänning och säker hantering. Alla sensorer tillverkas enligt höga kvalitetskrav. Detta dokumenteras av kvalitetsintyget som följer med varje elektrod. Dessutom har varje elektrod ett unikt serienummer för fullständig spårbarhet.
Produkter & detaljer
Dokumentation
Kompletterande produktinformation

Integrated Sensor Chip for full Plug & PlayThe Sensor Chip in the electrode head stores sensor data and sends it to the titrator setup when plugged in...