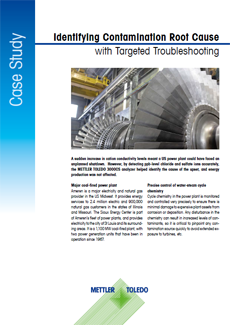 Contamination in Power Plants
Ameren is a major electricity and natural gas provider in the US Midwest. It provides energy services to 2.4 million electricity and 900,000 natural gas customers in the states of Illinois and Missouri. As with most other energy providers, Ameren was struggling with contamination in their power plant. Their cation conductivity measurements were beyond acceptable levels, which indicated contamination in their water cycle. Such events can occur due to a number of reasons and can have severe effects on expensive plant equipment and even result in unplanned shutdowns.
The traditional method of monitoring contaminant levels in the water-steam cycle is cation conductivity, and power plants follow guidelines from EPRI, VGB, IAPWS and other industry organizations to set a maximum acceptable limit for cation conductivity in their cycles. Since cation conductivity is a cumulative indicator of numerous water contaminants, it does not provide details of levels of key corrosive contaminants such as chloride and sulfate.
However, chloride and sulfate ions can be accurately detected by the METTLER TOLEDO 3000CS on-line chloride/sulfate analyzer. Read in the case study how Ameren installed the 3000CS analyzer to monitor their water-steam cycle
 
The METTLER TOLEDO 3000CS continuously monitors the water-steam cycle to prevent contamination in power plants. On-line measurements occur every 45 minutes in order to catch contaminants early enough so that corrective actions can be taken. This can prevent unplanned shutdowns of the power plant and expensive repairs of plant equipment.