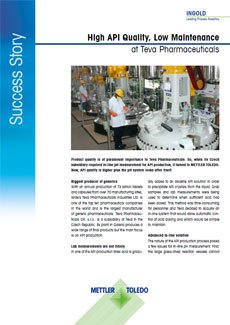 Fighting Corrosion
Teva Pharmaceuticals is the world's biggest producer of generics, with an annual production of 73 billion tablets and capsules from over 70 manufacturing sites. The Israeli company is one of the top ten pharmaceutical companies and puts high attention on API product quality.
One of Teva's subsidiaries, in the Czech Republic, was using grab samples and lab pH measurements to determine when sufficient acid has been dosed, in order to precipitate API crystals from process liquid. As this method is very time consuming, Teva looked for an alternative solution and purchased an in-line measurement system from METTLER TOLEDO including pH sensor, multi-parameter transmitter, automated sensor cleaning system, and retractable housing.
The new measurement solution not only operates reliably, but also allows Teva technicians to monitor sensor "health" so that any sensor issues can be rectified before measurements are affected. Read the full story in the document. 
 

The METTLER TOLEDO InPro 3100i is a pH sensor specifically designed for the pharmaceutical industry. This rugged gel-filled probe leads the industry for fast and precise measurements, even after repeated autoclaving or sterilization. The InPro 3100i is equipped with Intelligent Sensor Management (ISM®). ISM combines the advantages of in-line analytical measurements with modern digital technology. Among its many features, ISM monitors probe "health" and predicts when sensor calibration, cleaning, and replacement should be performed.
The METTLER TOLEDO M400 transmitter is an advanced, one-channel transmitter for a wide range of industries and applications. It monitors multiple parameters and offers both a touchscreen interface and four tactile soft keys.
EasyClean 200e is an automatic sensor cleaning and rinsing system from METTLER TOLEDO that provides regular cleaning of sensors. It substantially increases pH sensor lifetime by removing fouling on the sensor diaphragm.
The METTLER TOLEDO InTrac 777e is a retractable housing with an internal flushing chamber for sensor cleaning without interrupting the process.