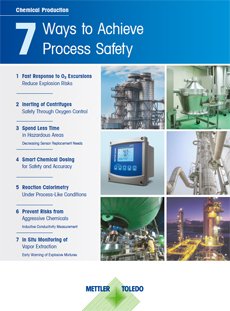 Chemical Production – 7 Critical Measurements for the Chemical Industry
Ensuring accurate and safe production is all about maintaining control over your processes, which is why having reliable analytics for your chemical production operation is critical. This 16-page guide contains short case studies on some of the most important analytics for optimizing production and ensuring safety in chemical production operations.
 

This guide, "7 Ways to Achieve Process Safety in Chemical Production" highlights key analytical measurements for liquid, gas and water that should be monitored in chemical production environments. Having fast access to each of these analytical measurements will help chemical production operations to quickly respond to operational anomalies.
The seven case studies included in this guide are:
Fast Response to O2 Excursions Reduces Explosion Risks: When there is the danger of explosion in production vessels, oxygen sensor accuracy and speed of response are paramount. For a leading producer of performance additives, an in situ O2 analyzer is ensuring process safety - with almost zero maintenance.

Reliable Inerting of Centrifuges Through Oxygen Control: See how one of the leading suppliers of centrifuges for the fine chemicals industry improved their centrifuge productivity and reliability through installing amperometric oxygen sensors.    
Less Time Spent in Hazardous Areas: Nitrogen-based fertilizer production is a hazardous environment for maintenance technicians and is very tough on pH sensors. When a US fertilizer producer switched to intelligent, process-tolerant sensors safety for technicians improved significantly.
Smart Chemical Dosing for Safety and Accuracy: A world-leading producer of flavors and fragrances had demanding requirements when upgrading their dosing system. Thinking outside the box was required to develop a solution that was tailored to their precise needs.
Reaction Calorimetry Under Process-Like Conditions: Discover the importance of discerning the chemical processes that lead to heat accumulation, and find out why reaction calorimeters are ideal for providing necessary thermodynamic information.
Prevent Risks from Aggressive Chemicals: When dealing with strong acids, conductivity measurement is ideal for monitoring solution strength, but sensors must be capable of tolerating the extreme conditions as well as providing accurate measurements. For a Brazilian company, implementing robust inductive conductivity sensors has led to lower production costs.     
In Situ Monitoring of Vapor Extraction: The potential for explosions during the production of dye intermediates is high. A Chinese manufacturer installed worry-free in situ oxygen sensors in vapor extraction units, freeing them to concentrate on their production processes.
Download "7 Ways to Achieve Process Safety in Chemical Production" today to learn how analytical measurements can help you reduce maintenance costs, achieve operational excellence and ensure safety in your chemical production operations.