Electronic Single Channel Pipette
Dispense Multiple Aliquots with The E4 XLS+
An electronic single-channel pipette uses electromechanical mechanisms to accurately aspirate and dispense liquids. Rainin XLS+ E4 electronic pipettes blend innovative engineering with ergonomic design to deliver extraordinary comfort and precision control. The joystick navigation and large color display make it easy and intuitive to use. All Rainin XLS pipettes are equipped with state-of-the-art RFID technology for fast and efficient calibration tracking and management.
Add 1 or 2 more products to compare
Advantages of the Single Channel Electronic Pipette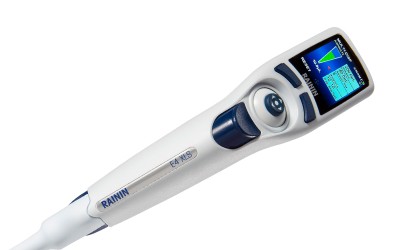 A Feature-Rich Electronic Pipette
Increase your productivity and the speed of your workflow with Rainin's most fully featured and easy-to-use single channel electronic pipette.
Accurate and Precise
All piston movements are controlled by the onboard microprocessor, which moves the piston the set distance at the set speed, regardless of the user. The advanced stepper motor has 4,000 discrete steps, providing highly precise liquid measurements.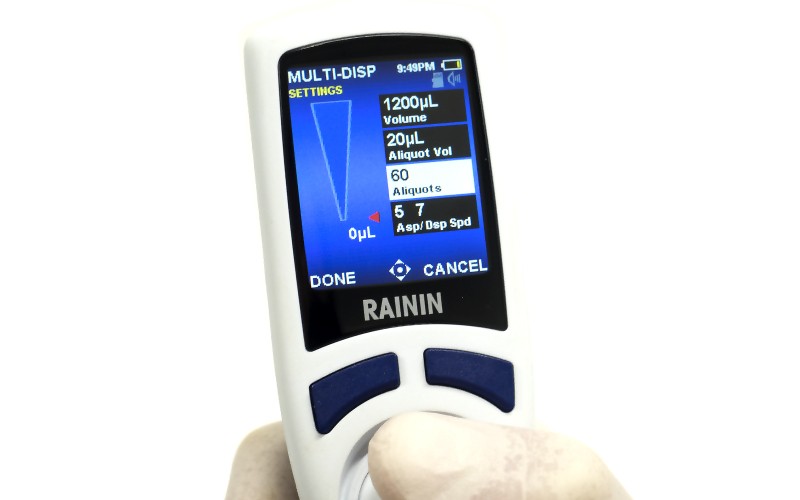 Save your Protocols
Store multiple custom protocols in the on-board memory. Simultaneously review and select your protocols with a simple movement of the joystick. No more re-entering preferred protocols over and over again!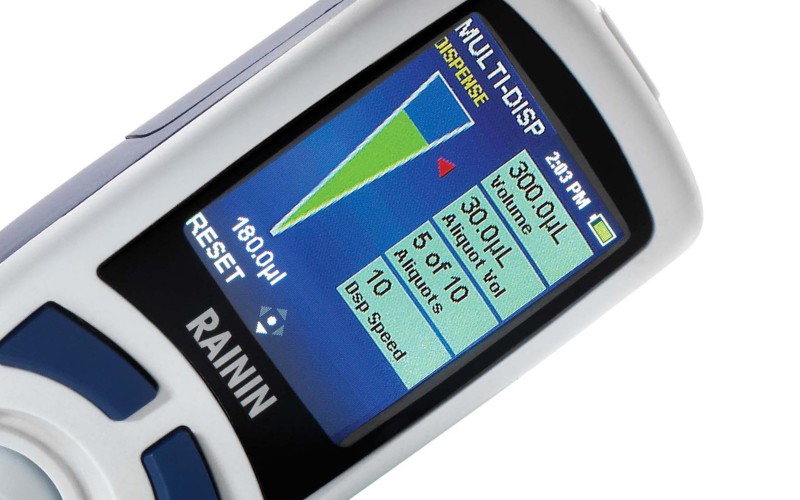 Easy to Control
The E4's large color screen, carousel navigation and joystick control make operation easy and highly intuitive. From straightforward pipetting to complex applications, this tool can do it all.
GLP/GMP Secure
Onboard service data is extremely secure and quick to access. Avoid calibration compliance errors by password-protecting access to service interval alarms. Minimize pipetting SOP deviations by locking protocol settings.
Applications

Rainin provides this quick start guide to help you begin using your E4 XLS+ electronic pipette right away.

Operating instructions for the Rainin E4 XLS+ single-channel, multichannel and adjustable spacer electronic pipettes.

An overview of the features and benefits of the XLS+ pipette family, including performance, comfort and control.

E4 XLS - Electronic Information Product (EIP) - China RoHS Substance Disclosure Statement Table
Expert Service – Tailored to Fit Your Pipetting Needs
METTLER TOLEDO supports and services your pipettes through their entire life-cycle, from good pipetting techniques to preventive maintenance and calibration to equipment repair.

Order Pipette Service & Calibration
FAQs
Is the E4 XLS+ single channel electronic pipette ergonomic?
Yes, this ergonomic pipette is lightweight and designed for use with either hand. The E4 XLS+ single-channel electronic pipette fits like a glove and is extraordinarily well balanced while pipetting. The carefully shaped finger hook enables a relaxed grip. Extremely light operating forces and a silicone shock absorber built into the tip ejector make the E4 a pleasure to work with. On LTS-equipped models, tip ejection force is just 0.6 kg.
What are the different modes on the E4 XLS+ electronic single channel pipette?
The E4 XLS+ electronic single channel pipette has various mode options. For instance, you can measure precise volumes in manual mode or dispense multiple aliquots in multi-dispense mode. Plus, you can automate cycle counting so you can concentrate on other details and relieve your thumb — with options like auto-mix or auto-dispense.