Multichannel Electronic Pipette
Precision with Consistency across All Channels
A multichannel electronic pipette is a handheld instrument used by life science researchers to transfer precise amounts of liquid six, eight or 12 samples at a time. Rainin E4 XLS+ multichannel pipettes are equipped with the patented LTS™ LiteTouch System™ to minimize effort and deliver superior accuracy. Rainin E4 XLS+ multichannel pipettes are extremely precise and offer exceptional channel-to-channel consistency and superior ergonomics for hours of comfortable, pain-free pipetting.
Add 1 or 2 more products to compare
Advantages of the Multichannel Electronic Pipette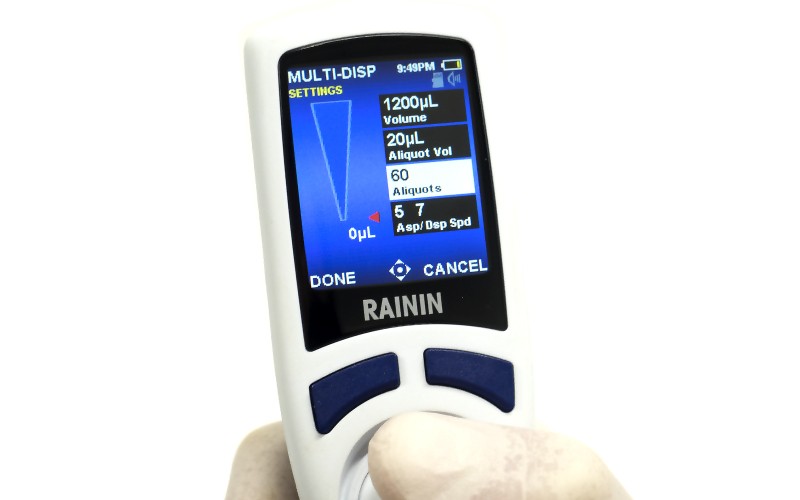 Built to Perform
The cushioned joystick selector makes it easy to configure and run protocols. When dispensing multiple aliquots across multiple channels, you'll get consistent volume and identical speed at every step.
Quantitative Analysis in Fewer Steps
For consistent high-throughput work, nothing compares with the E4 XLS+ electronic multichannel pipette. Fast loading, ergonomic handling and absolute precision across all channels are Rainin hallmarks.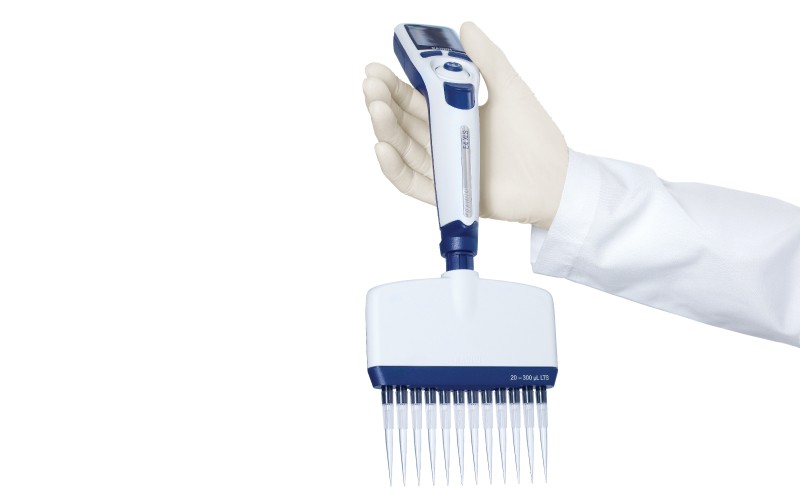 Ergonomic Pipette
Designed for use with either hand, the E4 XLS+ electronic multichannel pipette fits like a glove and is extraordinarily well balanced while pipetting. The carefully shaped finger hook enables you to relax your grip. Extremely light operating forces and a silicone shock absorber built into the tip ejector make the E4 a pleasure to work with.
Consistent Sample Pickup
LTS tip and nozzle design provides exceptionally easy multichannel tip mounting. Perfect sealing – the first time and every time – without rocking or hand-tightening. Try it – you'll be amazed how easy it is to get absolutely consistent sample pickup across all channels.
Simplify Repetitive Pipetting
Multi-dispense takes the drudgery out of repetitive pipetting by calculating how many aliquots can be dispensed from a single pickup. Autopace simplifies repeat dispensing – click the joystick once and repeat dispense across a plate.
Documents

Rainin provides this quick start guide to help you begin using your E4 XLS+ electronic pipette right away.

Operating instructions for the Rainin E4 XLS+ single-channel, multichannel and adjustable spacer electronic pipettes.

This document provides an overview of how the XLS+ multichannel pipettes raise the bar on multichannel pipetting and performance.

An overview of the features and benefits of the XLS+ pipette family, including performance, comfort and control.

This document provides an overview of the E4 XLS+ Multichannel pipette which allows you to quickly move your samples between formats.

E4 XLS - Electronic Information Product (EIP) - China RoHS Substance Disclosure Statement Table
Expert Service – Tailored to Fit Your Pipetting Needs
METTLER TOLEDO supports and services your pipettes through their entire life-cycle, from good pipetting techniques to preventive maintenance and calibration to equipment repair.

Order Pipette Service & Calibration
More information
Navigation using the joystick on the E4 XLS+ multichannel electronic pipette
Navigation is done using the soft keys and the joystick control. The functions of the soft keys and joystick control change according to the menu or mode displayed.
There are two soft keys below the display. Left and right soft key functions change according to the current menu or mode screen. Functions are shown in the display above each soft key, and the available joystick controls are highlighted in the navigation icon.
Faster throughput
Speed up your plate work with Rainin's E4 XLS+ electronic multichannel pipettes. Special modes streamline how you transfer multiple aliquots, perform serial dilutions and program complex pipetting routines.