Pipette Tip Box
Refillable and Fast Loading Rainin Racks
A pipette tip box contains removable-cover pipette tip racks that are perfect for fully or partially loading single-, 8- or 12-channel pipettes. The Rainin rack's lid rests open 120°, can be detached and reattached and snaps securely shut. In case of an accidental slip from the bench, the latch on the tip box holds firm to protect the tips inside. Rainin removable cover racks are autoclavable and are made with 20% less plastic than typical injection-molded tip racks.
Add 1 or 2 more products to compare
Advantages of Removable Cover Pipette Tip Racks
Detach and Reattach the Lid with Ease
A hinged-lid rack rests open 120°, latches shut, and opens with one hand. Stackable, autoclavable, this pipette tip box also integrates with a greener refill system.
Hinged Lid Also Lifts Off
Thoughtful design and precision engineering have resulted in a hinge that holds the lid open 120°, perfect for fully or partially loading an 8- or 12-channel pipette. Press further and it gently releases from the box to function like a lift-off lid.
Opens with One Hand
Slide the Rainin pipette tip box off a standard bench and, no matter how hard the floor surface, the latch stays closed, keeping tips secure. Yet to open, the latch yields effortlessly to the gentle pressure of your index finger and thumb.
Multichannel-Friendly
Whether you have an 8- or 12-channel pipette, the walls of the pipette tip box are tapered to allow full or partial tip loading from any angle. Even in hinged mode, the opened lid allows complete, unobstructed access to the tip deck.
Easy-Read Labels
Our rack stacks five high for orderly, space-saving storage. High-resolution labeling on the front of the racks provide product details in an easy-read format. The colored tip decks extend along the perimeter of the box, making the volume readily apparent.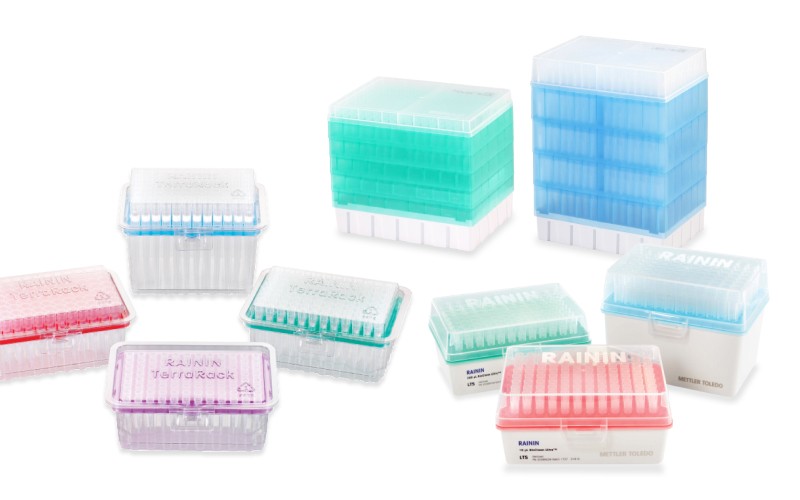 Less Plastic, Lighter Weight
Integrating the tip deck and base adds strength and stability. The result: we've reduced the amount of plastic used in each by an average of 20%. Less plastic means less weight and less plastic waste.
Documents

BioClean has long been the standard for assuring customers that Rainin tips are pristine and free of biological contaminants. Download the BioClean Ul...

By virtually eliminating friction, the Rainin LiteTouch System dramatically reduces the amount of force required to load and eject tips.

Learn how Rainin LR low retention tips improve pipetting accuracy by minimizing residual volume, particularly when transferring liquids such as viscou...

For successful experiments, pipette tips must be completely inert and not interfere with samples. Rainin BioClean tips are guaranteed to be free of RN...

A paper published in Science shows that by using certain polypropylene tips and tubes, experiments can be inhibited and results will be adversely affe...
Expert Service – Tailored to Fit Your Pipetting Needs
METTLER TOLEDO supports and services your pipettes through their entire life-cycle, from good pipetting techniques to preventive maintenance and calibration to equipment repair.

Order Pipette Service & Calibration