Basic Scale ICS226
Mobile compact weighing for light wash-down applications
Video: Industrial Basic Scales
Industrial Basics scales feature quality scales at attractive prices. They are suitable for basic food, chemical or manufacturing applications in dry and wet environments.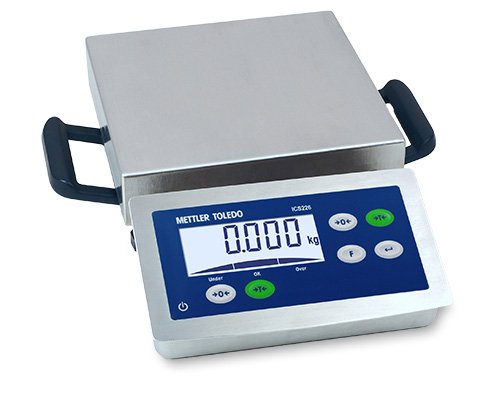 Mobile, Ergonomic, Compact
The ICS226 offers full stainless-steel construction with IP65/67 protection for light washdown applications in wet and humid environments. A one-of-a-kind keypad design and large and easy-to-read LCD display make use simple for operators to speed up production. Portability is no problem with its rechargeable battery for flexible operation throughout a production facility.
Bright, Easy to Read Display
The ICS226 Compact Scale provides a large and excellent visible LCD-Display and an intuitive graphic checkweighing indicator for outstanding readability.
Mobile Scale
Removable handles and the high quality Ni-MH rechargeable battery make the ICS226 a fully portable and mobile scale for flexible operation everywhere in the facility
Products and Specs
Documentation
Expand your knowledge about compact weighing for light wash-down applications
Services
Maintenance and calibration to optimize your operations
Explore our Services - Tailored to Fit your Equipment
We support and service your measurement equipment through its entire life-cycle, from installation to preventive maintenance and calibration to equipment repair.
Videos
ICS Videos for Compact Scales
ICS Videos for Industrial Basics Scales