PowerCell Canister Load Cells SLC611D
High-acuracy PowerCell canister load cells for heavy-capacity industrial weighing
SLC611D Canister Load Cells
METTLER TOLEDO's load cells enable the quick and safe integration of weighing technology into any machine for simple weighing, filling, dosing, bat...

METTLER TOLEDO's load cells enable the quick and safe integration of weighing technology into any machine for simple weighing, filling, dosing, batching, sorting and check-weighing. METTLER TOLEDO's load cells are used in various industries including food, pharmaceutical and chemical applications. They are available in various capacities and versions to meet the application and environmental needs of OEM machine manufacturers, system integrators and end-users. A broad range of accessories is available for load cells including base plates, load introduction hardware and isolators to cope with heat, shock and vibration.
METTLER TOLEDO offers a wide range of load cells from 3kg up to 300t capacity. Load cells are available in aluminum, plated steel and stainless steel electro-polished. They are available in various legal-for-trade accuracy classes according to OIML R60 and NIST HB44, including OIML C3, C6 and C10, and NTEP 5000d III S/M, 10000d III M and 10000 III L M. Load cells are available for hazardous area applications and are approved according to ATEX, FM (Factory Mutual), cFM (Canada), IECEx and NEPSI. They meet protection classes IP67, IP68 and even IP69K. Load cells support METTLER TOLEDO's weightless calibration methods CalFree and CalFree Plus, allowing for scale calibration at the touch of a button.
PowerCell load cells allow for diagnostics down to the load cell level, alert the user in case of a failure and enable problems to be rectified quickly. RunFlat is a feature that allows a scale with a failed load cell to continue operating by estimation based on past load distribution, thus minimizing downtime until the load cell can be replaced. These load cells also monitors several key parameters to predict and alert you to impending failure. Designed to be used in virtually any environment, these robust load cells provide you with unmatched performance and industry-leading total cost of ownership.
The benefits of METTLER TOLEDO PowerCell load cells
'POWERCELL® provides extremely high accuracy due to an internal microprocessor that continuously compensates for environmental factors. This provides the most accurate weight and monitors key parameters for predictive diagnostics. The SLC611D load cell is the optimal choice for any form of multi-load-cell scale when accuracy and reliability are key.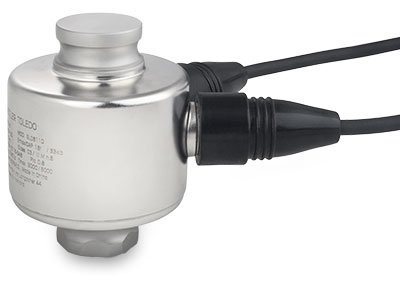 Connectors and Cables
POWERCELL® load cells are easy to install, connecting to one another and the terminal in a simple daisy-chain network. Data transmission via CAN Bus provides a very robust digital signal not affected by cable gauge and length, damp weather, etc. No junction box is required thus eliminating a common source of error. The load cells have robust industrial cable connectors allowing the load cell or cable to be replaced independently without affecting system performance.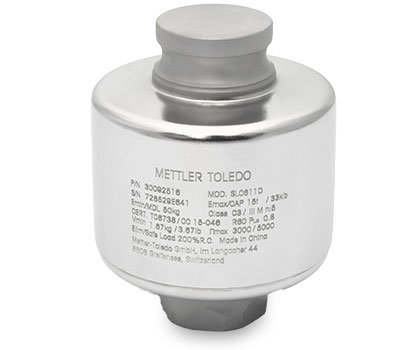 The product features:
Capactiy range 7.5t - 22.5t (16.5klb .. 49.5klb)
Material: stainless steel
Accuracy: OIML C3, NTEP 5000d III M.
Hazardous Approvals: ATEX, FM, IECEx
ATEX/IECEx Zone1&21 ; FM Div1 approval
IP68/IP69K Protection Class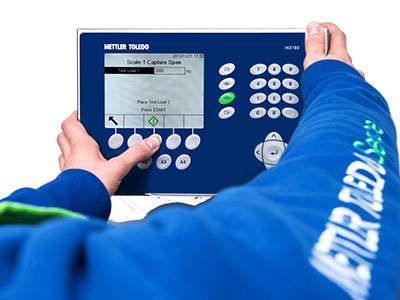 Diagnostics
Load cell failures very often go undetected in analog systems. This cannot happen with POWERCELL. The weight information from each load cell is monitored separately by the terminal which can judge system condition and provide predictive maintenance recommendations. Load cell overload or failure, out-of-symmetry errors, or out-of-range temperature signals are recognized immediately and corrective action initiated, often allowing the scale to operate until the load cell is replaced.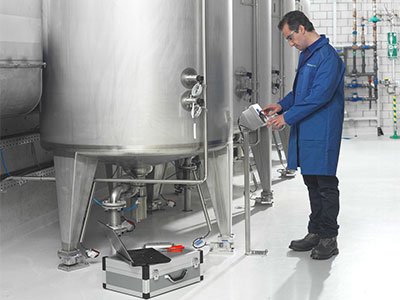 CalFree Plus
Every POWERCELL® load cell is equipped with an onboard microprocessor and, as part of the manufacturing process, the load cell's calibration data is stored in its memory. When the system is hooked up, the calibration data is transferred without error to the terminal and the scale can be calibrated in seconds by CalFree Plus. In the unlikely event of a load cell failure, the calibration data for the replacement load cell is read and the the scale can be recalibrated easily.
Mar 30, 2020
Mar 30, 2020
Mar 20, 2020
Mar 20, 2020
Dec 24, 2019