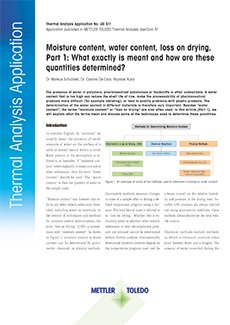 This white paper describes various analytical techniques for water content analysis.
The exact knowledge of moisture/water content is an essential requirement for many materials, including polymers, chemical products (e.g. adhesives, paints, soaps and detergents, dyes, pigments, and inks), pharmaceutical substances and foodstuffs. Even a slight deviation from a defined standard can adversely impact a material's quality and safety.
Moisture/Water Analysis Techniques
Many options are available to determine water content and investigate water–solid interactions. The technique selected depends on the type of sample and property of interest, and may include a moisture analyzer, Karl Fischer titration, thermal analysis and instrumentation for dynamic vapor sorption.
Moisture/Water Determination: Gravimetric Methods vs. Karl Fischer Titration
This white paper explains the difference between the terms "water content", "moisture content" and "loss on drying" (LOD) and describes two gravimetric techniques (TGA and the halogen moisture analyzer) and Karl Fischer titration (KFT) for determining the moisture/water content in materials. Gravimetric measurements are always LOD methods and yield the total volatile content (including water) of samples. In contrast, KFT or physical methods are specific for water and determine the water content of samples.
 
The advantages of different techniques for moisture/water content determination, including TGA-sorption for the study of adsorption and desorption behavior.
Moisture Analyzers
Highly accurate instruments for moisture content determination between 0.01 to 100% for any sample type.

DSC and TGA
Highly sophisticated instruments that allow for any content determination from RT to 1600 °C.

TGA-Sorption
Upgradable system to study sorption and desorption behavior.

Dynamic Vapor Sorption (DVS)
Integrated systems for automatic gravimetric determination of water vapor sorption and desorption in multiple samples.
Karl Fischer Titration
The advantage of this method is its selectivity since Karl Fischer titration is specific for water.