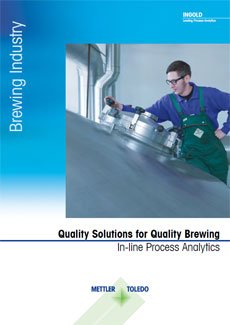 Brewing Industry Brochure
In-line analytics are used in a wide range of brewery processes from source water treatment to brewing to filling. This brewery brochure covers the extensive portfolio of METTLER TOLEDO in-line analytical solutions that can help you produce the best quality wort; prevent beer loss during fermentation, storage and filling; increase product shelf life and much more.
In this brochure for analytics for the brewing industry, you'll find a wide range of products for different brewery process steps. These analytical measurements help optimize production at large and mid-sized breweries.
One critical measurement throughout the process is the monitoring of dissolved oxygen. METTLER TOLED offers dissolved oxygen sensors that use advanced optical measurement technology. These sensors are ideal for measuring high ppm oxygen levels in wort aeration, and low ppb measurements throughout brewing and filling.  
In-line pH measurement is necessary during mashing and wort acidification to help maximize brew house yield and ensure consistent wort quality. METTLER TOLEDO provides pH sensors that ensure high measurement performance and that tolerate repeated exposure to cleaning-in-place processes.

Dissolved CO2 measurement is commonly used in breweries to monitor carbonation and other steps. The METTLER TOLEDO in-line CO2 sensor enhances industry-proven thermal conductivity CO2 measurement by providing increased reliability, leading to greater operational uptime.
Monitoring turbidity is important at the lauter tun and mash filters, and monitoring brightness and color with an in-line sensor is convenient in blending processes. METTLER TOLEDO offers easy-to-use turbidity/color sensors that comply with international standards.
An optical product monitor ensures reliable and reproducible detection of phase transitions in yeast/beer separation processes after fermentation and storage. Such monitors can reduce beer loss and increase process safety.
Multi-parameter, multi-channel transmitters offer a convenient method of monitoring different parameters from different sensors. METTLER TOLEDO offers such a transmitter with a color touchscreen interface and stainless steel enclosure for brewery use.
Find out in the brochure how METTLER TOLEDO can help you brew better beer.