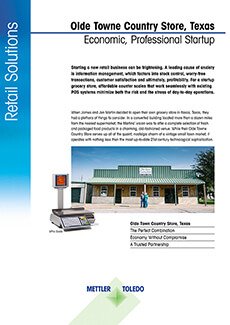 Opening a new store with METTLER TOLEDO
Starting a new retail business can be frightening. A leading cause of anxiety is information management, which factors into stock control, worry-free transactions, customer satisfaction and ultimately, profitability. For a startup grocery store, affordable counter scales that work seamlessly with existing POS systems minimize both the risk and the stress of day-to-day operations.
When James and Jen Martin decided to open their own grocery store in Itasca, Texas they had a plethora of things to consider. In a converted building located more than a dozen miles from the nearest supermarket, the Martins' vision was to offer a complete selection of fresh and packaged food products in a charming, old-fashioned venue. While their Olde Towne Country Store serves up all of the quaint, nostalgic charm of a vintage small town market, it operates with nothing less than the most up-to-date 21st century technological sophistication. 
The Perfect Combination
For the Martins, the purchase of weighing equipment for their store was one of their first and most important decisions. It was critical that the scales would be reliable, easy-to-use, compatible with their POS system, and above all, affordable for their startup venture. They investigated a variety of possible products and vendors, but rapidly came to the conclusion that one company – METTLER TOLEDO – stood above the rest for its product line, its service program and its responsiveness. 
Click here to learn more about METTLER TOLEDO Retail Scales.