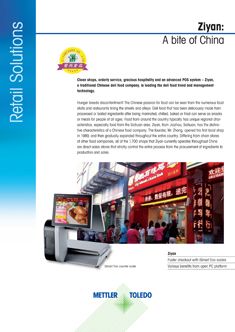 Ziyan and UC Evo Line Case Study
UC Evo Line Scales in Bustling China

Clean shops, orderly service, gracious hospitality and an advanced POS system – Ziyan, a traditional Chinese deli food company, is leading the deli food trend and management technology.
Hunger breeds discontentment! The Chinese passion for food can be seen from the numerous food stalls and restaurants lining the streets and alleys. Deli food that has been deliciously made from processed or boiled ingredients after being marinated, chilled, baked or fried can serve as snacks or meals for people of all ages. Food from around the country typically has unique regional characteristics, especially food from the Sichuan area. Ziyan, from Jiazhou, Sichuan, has the distinctive characteristics of a Chinese food company. The founder, Mr. Zhong, opened his first local shop in 1989, and then gradually expanded throughout the entire country. Differing from chain stores of other food companies, all of the 1,700 shops that Ziyan currently operates throughout China are direct-sales stores that strictly control the entire process from the procurement of ingredients to production and sales.
Unique flavors: Ziyan and METTLER TOLEDO scales 

In terms of flavor, Ziyan values the passing down of traditional Sichuan cuisine and incorporates a fusion of local flavors to create a unique taste. As a company that specializes in traditional Chinese deli food, Ziyan uses innovative management and operations techniques. In the beginning, after opening five or six stores, the company discovered a few copycat businesses. In response, Ziyan streamlined the uniforms, signs, service methods, prices and electronic scales to create a consistent public image. This was the beginning of the "franchise" concept in China that began in the 90s.
During Ziyan's rapid development process, the electronic scales used were upgraded generation after generation. From older pricing and weighing cash register scales to the current iSmart scales, Ziyan has always used weighing equipment from METTLER TOLEDO. For Ziyan, METTLER TOLEDO is the leader in the field of weighing, because its equipment strictly follows measurement and trade regulations and the company is a symbol of honest and fair businesses.