An IND9U unattended truck weighing terminal equipped with WiFi connectivity adds flexibility to your location and can save you money. Scale data, driver communications, traffic control signals and more all can be sent wirelessly. That means you can easily position the hardware nearly anywhere, with only an electric connection.
Unattended terminals allow for streamlined self-service truck weighing. Drivers can be assigned various forms of identification, including RFID cards, to make automated transactions simple. Many locations with routine scale transactions have used those systems to speed up transaction times and take the burden off manual scale operators.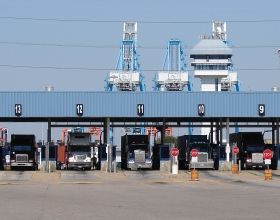 Wireless Systems Simplify Scale Automation
Fully automating the scale system, including traffic controls, remote displays, photo capture and more may seem like a daunting task. However, METTLER TOLEDO offers components with wireless connectivity that make these systems easy to install or reposition later. Wireless signals can be used to transmit:
Truck/driver identification
Scale weight data
Remote display data
Voice-over-IP intercom
IP video camera interface for up to four cameras
Traffic light and gate controls
Photo eyes
Road loops
Wireless connectivity makes scale automation easier than ever. Now is the perfect time to upgrade existing scale systems with peripherals to keep you connected and to streamline transactions.