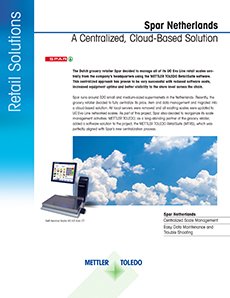 Download the case study to learn how Spar benefited from simplified processes, better asset control, and major cost savings.
A Centralized, Cloud-Based Solution
The Dutch grocery retailer Spar decided to manage all of its UC Evo Line retail scales centrally from the company's headquarters using the METTLER TOLEDO RetailSuite software. This centralized approach has proven to be very successful with reduced software costs, increased equipment uptime and better visibility to the store level across the chain.

Spar runs around 320 small and medium-sized supermarkets in the Netherlands. Recently, the grocery retailer decided to fully centralize its price, item and data management and migrated into a cloud-based solution. All local servers were removed and all existing scales were updated to UC Evo Line networked scales. As part of this project, Spar also decided to reorganize its scale management activities. METTLER TOLEDO, as a long-standing partner of the grocery retailer, added a software solution to the project, the METTLER TOLEDO RetailSuite, which was perfectly aligned with Spar's new centralization process.
Register to download the case study to learn how METTLER TOLEDO RetailSuite offered simplified processes, better asset control, and major cost savings. 

Securely Into the Cloud
Securely into the Cloud Thanks to the METTLER TOLEDO RetailSuite, Spar Netherlands is able to benefit from all the advantages of centralized device management while also giving the local store managers their necessary freedom to configure the scales and adjust prices themselves. On Spar's journey towards a modern cloud-based data management, METTLER TOLEDO proved to be the perfect partner.