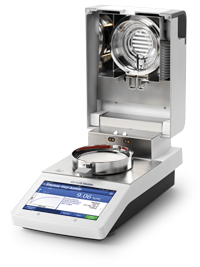 HC103 Moisture Analyzer
A leading chemicals producer in Asia manufactures and sells various grades of ethylene-vinyl acetate (EVA) emulsions. These serve as a base for substances with adhesive properties, used in the manufacture of items from football cleats and flipflops to carpets and paint. The company is committed to R&D and continuous quality improvement, and their dedication to innovation has helped them to establish a strong reputation among customers worldwide. But the EVA emulsions they produce are volatile, making it difficult to accurately measure solid content, a key performance indicator. Recently, they turned to METTLER TOLEDO to improve this process.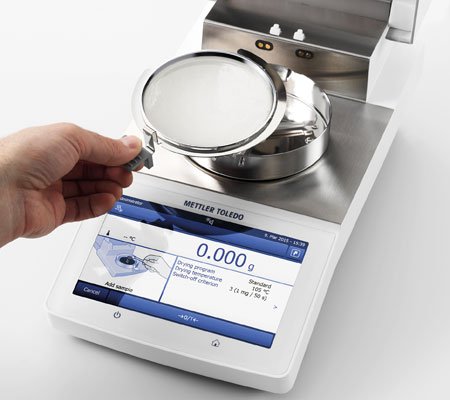 HC103 Moisture Analyzer
Process accuracy for reliable and reproducible results
The company monitors solid content both while developing new materials in line with customer requirements and applications, and during quality control of finished products. Due to their stringent production tolerances, the company tests every batch of adhesive after production. Only if the solid content is within tolerances can a batch be released and shipped to customers.
The producer needed a quick, easy to run method to assess its products and keep processes on schedule. Although their preference was to use loss on drying, EVA emulsions' volatility posed challenges for this method: Owing to samples' rapid evaporation, the initial weight before a measurement is started is difficult to obtain.
Representatives from METTLER TOLEDO worked with the company to define the most suitable parameters for their tests, and optimized their sample handling procedures with three new HC103 Halogen Moisture Analyzers. Results are now consistently accurate and repeatable, as solid content can be determined simply and without errors in less than ten minutes per sample.
Easy results documentation with a USB key
As a large number of samples are processed every day, manual recording of results was not only time-consuming but error-prone. The HC103's automatic storage of results saves time and eliminates transcription errors, thus improving the efficiency of the company's overall procedure. Furthermore, the instrument pushes reports in PDF format to a USB flash drive connected to the instrument.
Lab personnel are thrilled with this function, which supports audit-compliance with no extra effort. By ensuring reliable results, ease of use and fast operation, the company's new HC103 moisture analyzers help them deliver even better quality products – and in less time.