Large Volume Bottle-Top Dispensing
Disp-X Bottle Dispensers
A bottle top dispenser is designed for liquid dispensing across a broad application base in biology, pharmaceutical, clinical, chemical and forensic labs. Disp-X bottle-top dispensers are easy to use and accurately and safely dispense large volumes of common laboratory solutions directly from bottles. Choose from four Disp-X dispensers volume range from 0.5 mL to 50 mL.
Add 1 or 2 more products to compare
Advantages of the Bottle Top Dispenser
Superior Chemical Compatibility
Disp-X bottle top dispenser uses high-grade inert materials to assure the purity of your reagents from the first aliquot to the last. Disp-X is compatible with a wide range of liquids and is autoclavable for biological applications.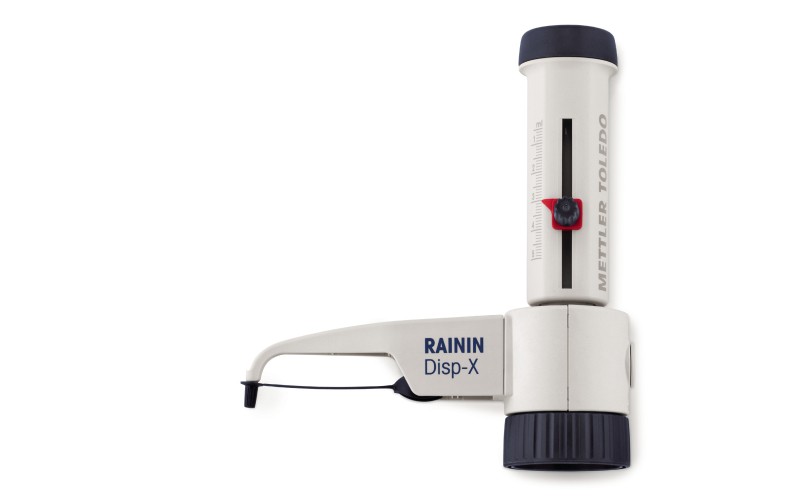 Built-in Safety Features
The Disp-X dispenser includes a safety system with discharge tube and closure cap to prevent accidental dispensing or spilling. The slotted discharge tube ensures correct installation and safe operation every time. The inner glass piston is enclosed in an inert polypropylene sleeve to prevent damage and allow for smooth operation.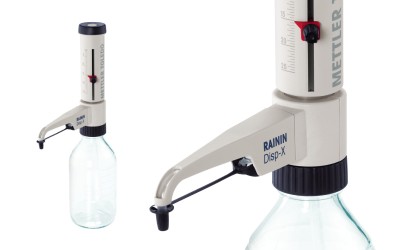 Clear and Easy Control
Setting the volume on Disp-X is easy using the adjustable volume control knob. Simply position the marker at the desired volume and go. Very little force is required to move the piston up and down because a liquid film between piston and cylinder acts as a lubricant. Discharge valves are easy to clean and replace.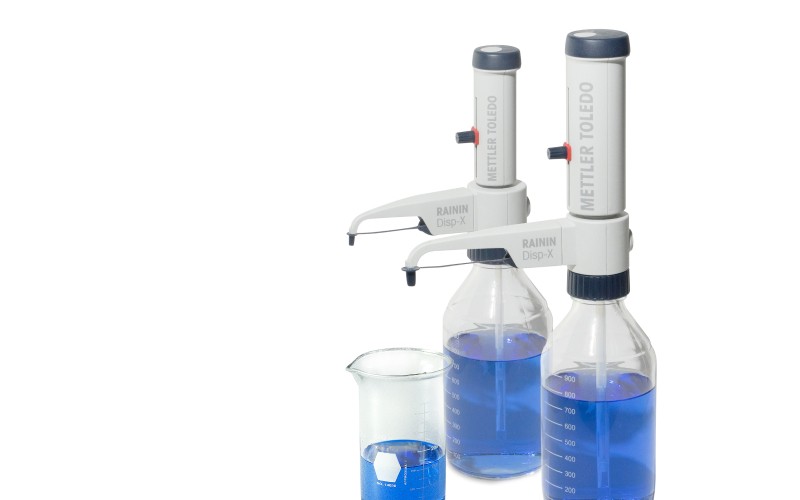 Flexible Liquid Dispensing Options
With Disp-X, you can change accessories to suit your application workflow. Changing accessories is fast and easy. Discharge tubes and filling tubes are available in various sizes to meet your liquid dispensing needs. Fixed and flexible discharge tubes are available. Disp-X bottle-top dispensers are for volumes ranging from 0.5–50 ml.
Documents

Download the operating instruction manual of the Disp-X Bottle-Top dispenser for large volume liquid handling from Rainin.

View the technical specifications, features and benefits of the Disp-X Bottle-Top dispenser for large volume liquid handling from Rainin.
Expert Service – Tailored to Fit Your Pipetting Needs
METTLER TOLEDO supports and services your pipettes through their entire life-cycle, from good pipetting techniques to preventive maintenance and calibration to equipment repair.

Order Pipette Service & Calibration
More Information
Safely and Easily Handle Reagents
The Rainin Disp-X manual bottle top dispenser is a valuable tool to aliquot reagents quickly, reliably and safely. Built-in safety features protect the user from accidental spills and ensure smooth, trouble-free liquid dispensing. For use with a wide range of compatible liquids – including corrosive and inflammable liquids,– Disp-X has a broad application base in biology, pharmaceutical, clinical, chemical and forensic labs.
Disp-X can be used with a variety of liquid reagents while providing superior sealing over a wide range of temperatures and viscosities. Disp-X is available in 4 different volume ranges: 0.5 – 5 mL, 1 – 10 mL, 2.5 – 25 mL and 5 – 50 mL.
Confidence while Liquid Dispensing
Features:
High grade chemically inert material used throughout the Disp-X dispenser.
The Disp-X liquid dispenser can be screwed directly onto reagent bottles with GL 45 screw threads; other bottle types can be connected with the adapters provided.
Replaceable filling and discharge valves provide quick and easy servicing and maintenance.
Telescoping filling tube snaps into place for easy replacement.
Disp-X's self sealing piston simplifies maintenance.