UniCond 2-electrode Conductivity Sensor
Highly repeatable accuracy due to patent pending calibration system.
UniCond sensors contain electronics embedded in each sensor. This innovative technology allows a very wide measurement range: a single UniCond 2-E sensor covers a range from ultrapure to brackish water. METTLER TOLEDO's proprietary Intelligent Sensor Management (ISM) concept adds further benefits. ISM converts the conductivity measurement into a highly stable digital signal which is output to the transmitter. In addition, ISM's Plug and Measure feature means sensor installation is fast and easy.
The UniCond 2-E series is suitable for measuring conductivity in pure and ultrapure waters, pharmaceutical waters, make up water, and wastewater.
 

 

 
 

Wider rangeability with titanium and Monel™ sensors -  ultrapure water to 50,000 µS/cm



 


 

Stainless steel sanitary Tri-Clamp™ sensors - 0.02 to 2,000 µS/cm total range with +/- 1% system accuracy easily meets pharmaceutical water requirements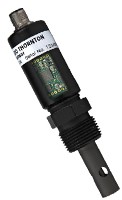 Specifications - UniCond 2-electrode Conductivity Sensor
| | |
| --- | --- |
| Short description | Digital sensor measures from ultrapure to brackish water. |
| Accuracy | 0.01 cm-1 sensor: ± 1%0.1 cm-1 sensors: ± 1% for 0.02-5,000 µS/cm; ±3% for 5,000 - 50,000 µS/cm |
| Temperature sensor | Pt 1000 RTD, IEC 60751, Class A, with NIST-traceable calibration |
| Temperature accuracy | ± 0.1 °C at 25° C |
| Connector | IP65, mates with 58 080 27X series cable |
Features and Benefits
Extended conductivity measurement range – one sensor covers UPW to brackish water
33% improved accuracy over analog sensors
Digital signal ensures high process reliability in harsh environments
No signal degradation over long cable lengths
Highly repeatable accuracy due to patent pending calibration system
Can be calibrated in-line as required by USP
Installation convenience with Plug and Measure
Identification, calibration and maintenance data stored in the sensor for easy traceability
Measuring circuit built into sensor body eliminates cable resistance and capacitance effects
NIST traceable resistances to cover ranges of measurement—conductivity and temperature