Comparator XPR56C/A
Reliability and Accuracy.
Manual mass comparator, 52 g capacity, 1 µg readability, XPR terminal, ProFACT built-in adjustment, Mass calibration software MC Link included, Motorized draft shield
Accurate Mass Determination
METTLER TOLEDO manual mass comparators guarantee top measurement performance and full traceability of weighing results.
Minimized Weighing Errors
Trouble-free weight placement thanks to the hanging weighing pan. The eliminated eccentricity errors results in improved instrument performance.
Secure Data Transfer
The integrated USB and Ethernet interfaces make it easy and reliable to transfer data to peripheral devices or a network.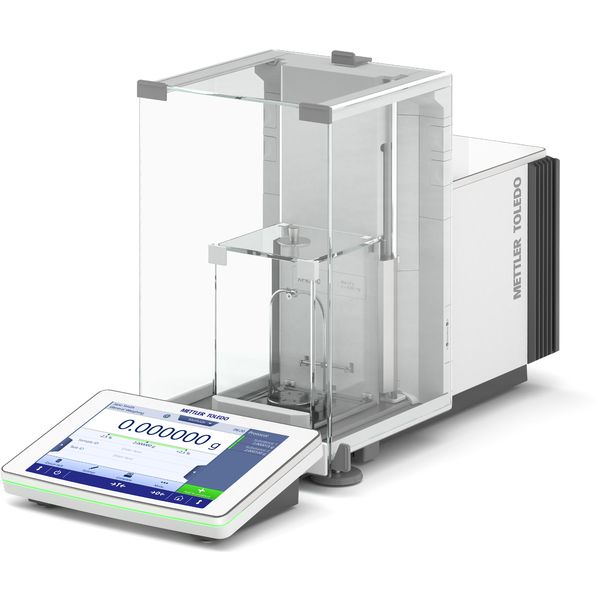 Product Family:MICRO00040026
Specifications - Comparator XPR56C/A
Maximum Capacity

52 g
Readability

1 µg
Settling Time

3.5 s
Minimum Weight (USP, 0.1%, typical)

1.2 mg
Adjustment

Internal (automatic/FACT)
Interfaces

USB-B (to device)
RS232 (integrated/optional)
USB-A (to device)
Bluetooth (optional)
Ethernet (LAN)

User management

Password protection
User Rights
Unlimited Amount of Users

Legal for Trade

Yes
Repeatability ABA at Nominal Load

2 µg (50 g)
Repeatability ABA at Low Load

0.8 µg (2 g)
Repeatability nominal load

4 µg
Repeatability (Low Load) (5%)

0.6 µg
OIML Class

M1
M2
M3
F1
F2
E1
E2

Gravimetric eccentricity elimination

Included
Software

MC Link 2 Mass Calibration Software included
Dimensions (LxHxD)

195 mm x 292 mm x 485 mm
Weight

10.1 kg
Valuable Samples

Yes
Compliance Options

Data Integrity
Log history (21 CFR Part 11 Compliant)
Password protection
Alibi Memory
Log history (Basic Metadata)

Balance Line

XPR
Repeatability, typical

0.6 µg
Balance Type

Microbalance
Weighing Pan Diameter

35 mm
Linearity ±

0.02 mg
Documentation Options

Printing
Basic Electronic Documentation
Automatic Documentation (21 CFR Part 11 Compliant)

Automatic Static Detection

Yes
Readability (Certified)

1 mg
Price

$$$
Microbalance Type

Micro-Analytical Balance
Family

Excellence
21 CFR Part 11 Compliant Weighing

Yes
Material Number(s)

30355550
Maximum Capacity:52 gMaximum Capacity:52 gReadability:1 µgReadability:1 µgMinimum Weight (USP, 0.1%, typical):1.2 mgMinimum Weight (USP, 0.1%, typical):1.2 mgAutomatic Static Detection:YesAutomatic Static Detection:YesMicrobalance Type:Micro-Analytical BalanceMicrobalance Type:Micro-Analytical Balance21 CFR Part 11 Compliant Weighing:Yes21 CFR Part 11 Compliant Weighing:Yes
One-Click Certificate
The included MC Link calibration software automatically stores all your weight calibration and other metrological relevant data in a secure database. Regulatory compliant calibration certificates are issued with one click.
Latest Technology
The large touchscreen terminal with built-in user guidance reduces errors to a minimum. Built-in intelligence such as Status-light, indicates intuitively the instrument status.
Highly ergonomic Operation
The user interface offers tireless, intuitive operation. SmartSens sensors allow to open/close draft shield door with the wave of a hand
Documentation