Portable Refractometers
The handheld digital refractometer that delivers accurate results
Portable Refractometer

The METTLER TOLEDO Portable Refractometer allows you to measure not only refractive index and Brix, but also Baumé, HFCS as well as several buil...


The METTLER TOLEDO Portable Refractometer allows you to measure not only refractive index and Brix, but also Baumé, HFCS as well as several built-in and user-defined concentrations. The Refracto provides automatic temperature compensation and can be hand held or used on a flat surface as a benchtop refractometer. Connect it to EasyDirect Density and Refractometry PC software for basic data management.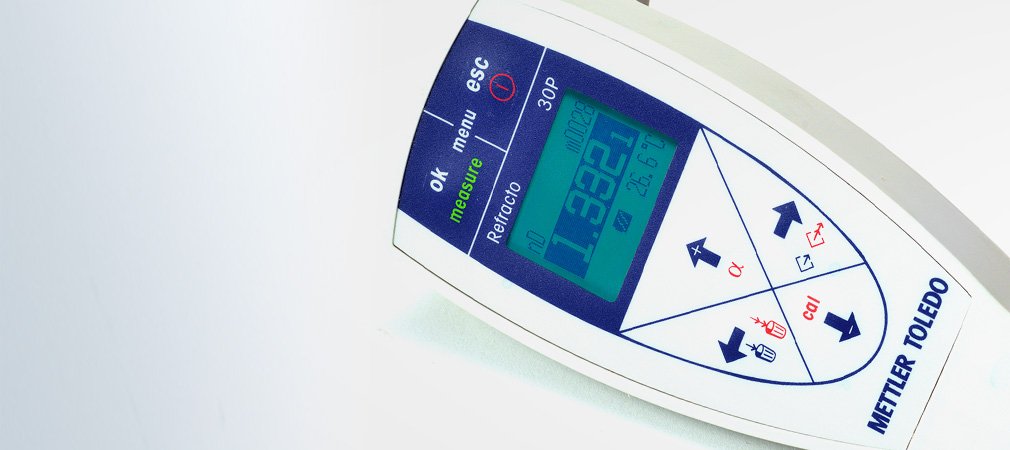 Refractive Index Anywhere You Need It
Developed for a wide range of applications, from checking the sugar concentration in beverages or the hydrocarbon content in motor fuels, the METTLER TOLEDO Portable Refractometer Line returns accurate and precise results within seconds, displayed in the measurement units needed.
This handheld digital refractometer line can be used on a flat surface or can be dipped directly into the sample for quick and simple measurements.
Accurate Results
During measurement, the Refracto determines the temperature automatically, and corrects the refractive index to a standard temperature of 20 °C – or any other user-defined temperature. This ensures accurate results, no matter the environmental temperature.
Simple and Straightforward
Operation is easy and efficient with the simple keyboard and menu structure. Results are clearly displayed on the backlit LCD screen. The Refracto portable refractometer stores up to 1100 results and includes information such as sample ID, measurement unit, date and time, and more.
Data Management Made Easy
Results can be viewed directly on the portable refractometer. For even more flexibility, export your results from the Refracto to EasyDirect™ Density and Refractometry PC Software. Review and filter your results on the computer with just a few clicks, and create graphs to monitor samples over time for better process control. Print reports from the software or directly from the instrument.
Additional Accessories to Suit Your Needs
Whether you work in the lab or in the field, the Refracto portable refractometer has corresponding accessories to suit your needs. Ensure accuracy over the instrument's lifetime by using our certified standards.
Products and Specs
Filter:
Set filter
Clear All
Brix Range
Temperature Range
Software
Prism
Range (nD)
Brix Range0 % – 85 % ;
Temperature Range 10 °C – 40 °C ;
SoftwareEasyDirect™ (not included) ;
PrismSapphire ;
Range (nD)1.32 – 1.65 ;
Documentation
Extended Product Information

What are the advantages and disadvantages of the different measuring techniques for density and refractometry?
Services
Explore our Services - Tailored to Fit your Equipment
We support and service your measurement equipment through its entire life-cycle, from installation to preventive maintenance and calibration to equipment repair.
Apr 16, 2020
Apr 30, 2020
May 07, 2020