Hygienically Designed Weighing Equipment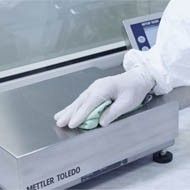 Hygienic-Design
Hygienically designed floor and bench scales speed up cleaning processes and reduce the risk of cross-contamination.
Features can contribute significantly to hygiene, including electro-polished stainless-steel surfaces and a scale design that eliminates hidden corners or exposed threads.
Learn how our hygienically designed weighing equipment helps you facilitate fast and effective cleaning processes.