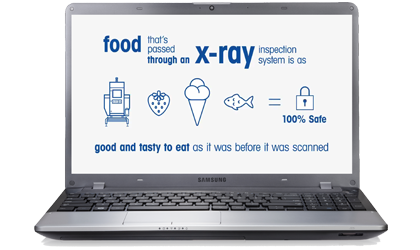 Mettler Toledo Safefline X-ray
Food consumers sometimes express concerns about possible harmful effects of X-rays on food safety and quality; at the same time, food producers can express similar worries that X-ray inspection might damage food on their production line – and even harm operators working close to X-rays.
This webinar demonstrates that X-rayed food is safe and healthy, and that no-one eating such food or working on X-ray-inclusive production lines can be negatively affected.
The webinar covers topics such as:
X-ray inspection radiation levels are so low that they have no negative effects on food, on consumers or on factory operatives
The effectiveness of X-raying food to detect and eliminate contaminants – helping manufacturers maintain proper safety procedures and obey regulations
The usefulness of X-rays in carrying out a whole range of quality checks
An explanation of what X-rays are and how X-ray inspection food  does not involve use of radioactive materials
Related Webinars

On-demand Food Safety MasterClass webinar how to prevent physical contamination in 6 steps.

This webinar discusses the key drivers for compliance with food safety standards and regulations. Risks of non-compliance are highlighted, along with...

Mettler Toledo's new webinar Ensuring the Safety and Integrity of Tall Rigid Containers splits tall, rigid containers into three categories based on t...

Valuable information to support manufacturers of various canned food applications to ensure optimum food safety.